The 30 honors WMU Business Alumni and Students Making an Impact
---
From entrepreneurial activists to visionary venture capitalists and everything in between, alumni and students from Western Michigan University's Haworth College of Business are shaking up some of the world's most important industries. To highlight these movers and shakers, the college features The 30, a digital publication that recognizes emerging business leaders—both students and alumni—who are providing thought leadership and innovative perspectives in the business world.
Launched in 2018 as "30 Under 30," the program was initiated as a means to recognize recent alumni doing extraordinary things in business. It has since evolved to include students and honor their accomplishments in leadership, professional development and more.
Each year, a new class of The 30—comprised of 20 alumni and 10 students—will be selected by committees that will evaluate the nominations using a holistic scoring method. Nominations for the 2019 class are open through October 21 here.
MEET PAST HONOREES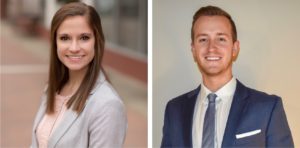 Brianna Amat                            Kam Kampen
What makes being selected to The 30 a special honor? According to past honorees, the recognition helps fuel the Bronco spirit to succeed in one's career, to make a significant mark in business, and to leave a positive impact on others.
Kameron Kampen, a sales account manager at Stryker and 2013 Haworth College of Business graduate, was chosen last year for the publication's inaugural class. Having worked in both sales and marketing for Stryker, Kampen was recognized for leading product launches, growing Stryker EMS social media platforms to nearly 100k followers, and amassing an incredible $12.5 million in sales in just three years.
"This was a special recognition because it was based on a broad range of inputs including career success, social impact, philanthropy and post-graduation involvement at WMU," Kampen says. "I have been a Bronco since birth, so being placed in a category with top performers gives me a sense of pride. The value of a degree from WMU is based on the success of its alumni, so we all have a personal responsibility to succeed."
Kampen adds that the recognition provides WMU graduates with a competitive edge on resumes and in interviews, and also helps broaden the professional network of up and coming WMU alumni. "This exposure helps us to utilize the strength of the Bronco alumni network through awareness of our peers' accomplishments," he says. "It also motivates students to succeed and be selected into this group in the years ahead."
Brianna Amat, an associate manager at SC Johnson, is also a past honoree. Since her time as a student in the Haworth College of Business, Amat has had a history of working for organizations such as Red Bull, the J.M. Smucker Company and Kraft Heinz. She now brings this experience to SC Johnson, where she holds the position of category and shopper leadership advisor for several household department categories at Family Dollar.
Amat, a 2016 graduate, speaks about the benefits being named to The 30 can have on both recent alumni and students. "The recognition gave me a boost of confidence early in my career and a great opportunity to network with other WMU alumni," she says. "My LinkedIn profile received a significant increase in activity after the publication was released—especially from alumni within my same field, which was absolutely awesome. My advice to students who want to succeed in business and apply for The 30 is to take risks, work hard and keep a positive attitude."
NOMINATE AN INDIVIDUAL OR ENCOURAGE A STUDENT TO APPLY
If you know of a WMU Haworth College of Business alum who is doing extraordinary things in the business world and would make a great candidate for The 30, or if you would like to encourage a student to apply, visit here.
THIS CONTENT WAS SPONSORED BY WESTERN MICHIGAN UNIVERSITY.