How do you create a purpose-driven brand that speaks to consumers and generates sales? That is the question that students in Western Michigan University's leadership and business strategy courses answered as they determined whether launching a cause-driven, micro-local wine in Michigan was feasible.
The student teams looked at every aspect of introducing a new brand of wine to the marketplace, researching consumer profiles, the geographic footprint for distribution and what would differentiate this wine.
The point of differentiation was a question they worked on with the guidance of Drs. Derrick McIver and Doug Lepisto throughout the duration of the project. Students coined a new term, Bronconess, which captures the essence of how Broncos sustain their efforts when others might stop, and pursue ideas with courage and enthusiasm in the face of challenges, and the new wine bears this name.
"The leadership and business strategy program strives to provide the best experiential learning for business students in the country," says McIver. "Working with businesses in a practical way allows students to experience true accomplishment. The students' hope is that the concept of Bronconess goes beyond the wine project and becomes a point of pride for all those affiliated with WMU."
The wine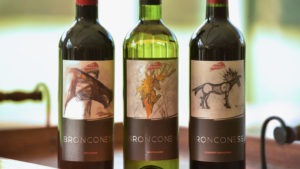 Bronconess is sourced from Tremonte Vineyard in Chile, which has been a company site visit for a two-week business study abroad course to Chile in the past.
Bronconess wine is available in three varieties: Cabernet Sauvignon, Red Wine Blend and White Wine Blend. Tremonte's unique location keeps it completely isolated from harmful contaminant agents, and its focus is on producing expressive wines with as little mechanical and human interference as possible.
What can you expect from these vintages?
Bronconess Reserve Cabernet Sauvignon 2014: Deep red in color with a dark core. Fervent character with full black fruit flavors, sweet undertones and firm tannins. A high-quality reserve wine with a unique expression of its boutique, hillside origin.
Bronconess Red Wine Blend 2015: Deep ruby red color. Its aroma reminds us of spicy notes delivered by Syrah and Cabernet Sauvignon that are softened by the red fruits delivered by Malbec. It has a good structure, with sweet harmonic tannins and a balanced acidity that makes it easy to drink. It is a wine that easily accompanies meats and pasta.
Bronconess Reserva White Blend 2015: Fresh and crisp with good acidity. Aromas of lemon, lime and melon with flavors that jump right out of the glass. Ideal with shrimp cocktail, whitefish or grilled chicken.
The labels on the wine are adapted from sketches that artist Revere La Noue used in his planning for The Epic Broncos, a mural created for WMU in 2011. The art can be purchased through the Bronconess website, and proceeds go to scholarships.
The leadership and business strategy program
Leadership and business strategy is a new experiential major in the Haworth College of Business that guides students in becoming effective leaders and problem solvers. More than 100 students are engaged in consulting projects such as the wine launch project.
"My first thought, when presented with the challenge of developing the wine brand, was that this was what I had been looking for," says senior Joe Newman. "A top reason I transferred to WMU was because of the reputation of the business school, and after the first day of the course when this project was introduced, I could tell that I had made the right decision. After our teams partnered with Meijer, I knew we had something special. This project and course completely changed my approach to problem-solving."
Where to buy Bronconess wine
One hundred percent of profits from the wine sales fund scholarships for leadership and business strategy students. Celebrate your Bronconess and the efforts of the students who created this compelling brand!
Bronconess wine is distributed by Imperial Beverage, which was a critical partner throughout the project. Visit the Bronconess website for locations where the wine is available, as well as for additional Bronconess-branded items.
THIS CONTENT WAS SPONSORED BY WESTERN MICHIGAN UNIVERSITY.