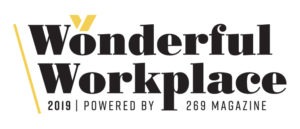 CREDIT UNION
Kalamazoo, MI
Consumers Credit Union knows all about growth. Over 300 employees work at the credit union's 20 West Michigan offices, with more joining its ranks every year.
Jennifer Smith, senior recruiter and human resources specialist, credits the Consumer's team for the organization's success. "We've found that if we have happy and engaged employees, we'll have happy and engaged members," she says. "And I believe one of the biggest keys to engagement is professional growth."
As part of the team's evaluation process, employees at Consumers fill out a "passion and purpose" form. The document identifies what a team member is particularly good at, what they love doing, and where they want to take their career. "We build those goals together at a 'Performance GPS' meeting that allows us to draw up a path designed to help the team member navigate their career at Consumers," explains Smith.
The credit union's team members can also follow internal career pathways mapped out in a company-wide playbook. "A career here is not an upward ladder—it's an intertwining lattice," Smith says. "There are all kinds of learning opportunities available to get you [where you want to go]." In fact, if an employee wants any kind of professional development, all they have to do is ask.
One of the many learning opportunities offered at Consumers Credit Union is called "Grab an Assignment." This program enables a team member to temporarily take over a job in a different department. "What's great about this opportunity is that it benefits the employee, because they're learning a new skill set and exploring career avenues, but it also benefits Consumers because we're building bench strength," says Smith. Team members who opt into Grab an Assignment help a different team a few hours a week—and if they find that the new position suits them, they just might update their career path. "It's really cool to be able to watch someone we hired thrive in a position I wouldn't have imagined," she says. "We have all kinds of stories like that throughout the organization."
In fact, Smith's own career path is one of these stories. After graduating from college, she started at Consumers Credit Union as a teller. "At that point, I didn't know what I wanted to do exactly," she says. "I learned the company's foundation and commitment to growing its people." Over time, Smith made a move to the Consumers marketing department. She later discovered a passion for recruiting, which landed her in her current position.
As a result of its professional development strategy, Consumer's Credit Union enjoys an incredibly high retention rate. Its engaged team members know they are right where they need to be to pursue the careers of their dreams.