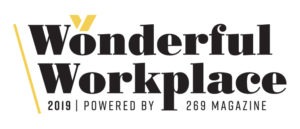 CERTIFIED PUBLIC ACCOUNTANTS
Kalamazoo, MI
For over 25 years, BKC, formally known as Brink, Key & Chludzinski, has been serving Southwest Michigan by providing accounting excellence in solutions for personal and business needs.
And though this full-service firm has a roster of tax, audit, accounting, and consulting experts, each of its team members is passionate about serving their community directly through volunteerism and philanthropy. "We know that we grow along with the people we serve," says Director of Business Development Sarah DeVoll. "BKC's guiding mission is to foster success for our clients, our team, and our community." She says that each of those three focuses is equally important—the success of any one area is contingent upon that of the other two.
BKC's team members practice what they preach and have even crunched the numbers to back it up. Together, the 28 employees at the firm volunteer over 1,000 hours of their time to local non-profit organizations each year. "A lot of us grew up or went to college here," says DeVoll. "We all have a personal stake in our community." In fact, BKC is represented on over a dozen boards in Southwest Michigan, and DeVoll herself serves as executive chair of the Kalamazoo division of the March of Dimes.
The hours invested not only pay dividends for the community but also strengthen the firm's internal and external bonds. "When we're volunteering, we're meeting clients, shaking hands with potential clients, interacting outside of a professional setting, and showing that we actually care," says DeVoll.
Through volunteerism, team members have the opportunity to express themselves and their passions as individuals. "I have a heart for babies, but we have some huge animal lovers here as well," she says. "Everyone is committed to a different cause, and we love to see that side of our teammates." When an event approaches, like the Salvation Army's Thanksgiving drive or the March of Dimes' March for Babies, the BKC team rallies to support each other's causes.
And when tax season strikes and clients are filing furiously, BKC takes the opportunity to put those passions on full display with a friendly competition. Each week team members who contribute five dollars or more to a charity fund can do their work in jeans on Friday. In addition to the denim privileges, donors can also cast a vote for their favorite cause, with the total proceeds going to the winning organization.
"We work hard for our clients every day, but we believe it's important to have experiences outside of yourself," says DeVoll. "It opens your eyes to how fortunate you are and makes you recognize how important community really is."