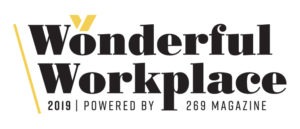 BEVERAGE DISTRIBUTOR
Kalamazoo, MI
Since the repeal of prohibition in 1933, Imperial Beverage has had a presence in Michigan.
Today, over 80 years later, it keeps good cheer flowing in every county in the state. With new bars, breweries, and tasting rooms drawing ever-bigger crowds to Southwest Michigan's downtowns, the company is enjoying a renaissance not seen since its early days.
A visit to Imperial Beverage's warehouse in Kalamazoo finds an ever-expanding treasure trove of libations with aisle upon aisle of beer, wine, spirits, nonalcoholic drinks, and even whipped liquors. With the recent addition of spirits to its shelves, the company's inventory has expanded to over 9,000 brands. Human Resources Manager Lindsay Cekola says that Imperial's strategy for growth hinges on its ability to maintain a small-business feel. While it's true that team members love being able to take home free cases of beer every Friday and order company-covered Ubers on demand, the close relationships they share across departments keep them coming to work with a smile.
"Everyone here knows each other. Our warehouse workers are best friends with sales reps, and executives are friends with drivers," she explains. "To make us more of a family unit as we expand, we organize huge events." As Imperial Beverage knows well, nothing brings people closer than sharing a laugh (and a drink).
In the summer, the Imperial team heads out on togetherness excursions to uncork their bottled-up workday stress. They go camping, cheer on the Detroit Tigers, and have been known to ride a mechanical bull or two. One of the highlights of every summer is the "Beers on First" picnic, a company-wide softball tournament. On this one day a year, the usually chummy Imperial Beverage team is divided. "It's super competitive," says Cekola. "We play a full tournament and rent out T-shirt cannons and bounce houses for the whole family." Six months later, Imperial's holiday celebration is also a hit. Like most family holiday parties, it's kid-focused, featuring gingerbread and movies like "Elf."
Cekola believes events like these help Imperial Beverage maintain the close-knit culture that has been the key to its ongoing success. "We owe it all to our employees," she says. "To thank our team every year, the company organizes another celebration: Employee Appreciation Week, and last year, we had a 'Dress as Your Favorite Drink' day. One of our warehouse associates wore a Plungerhead [Wine] costume and worked all day with a toilet plunger on his head." If you were to ask any of Imperial's 390 employees to tell you their favorite part of the job, they would likely say the friendships they form with their good-humored coworkers. And the company intends to keep it that way.