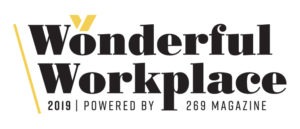 COMMUNITY DEVELOPMENT
Kalamazoo, MI
The Kalamazoo Promise (The Promise) is known far and wide as one of the nation's premier community development programs, and education is just one of its team's many purposes—and passions.
The Promise employs specialists who come to work every day eager to break down the barriers that stand between Promise Scholars and success, and its roster represents a plurality of backgrounds, cultures, and ages that reflect the diversity of its community. "Every one of our team members is creative, passionate, and brings something different to the table," explains Executive Director of Community Relations, Von Washington Jr.
Passion is a big part of the selection process at The Promise—the organization hires those who come with a deep-rooted devotion to its mission and empowers them to let their love for the community define their roles. Team members help students find successful careers and maximize community collaborations to help groups address pressing issues, including clean water, shared prosperity, and generational poverty.
Each week, employees bring their passions to a full-team huddle to discuss the week that was and the days ahead. "When we're in the huddle, we're all looking at different perspectives," says Amy Terzino, culture operations manager. "Essentially, we have an invisible student in the middle. We're all working toward the common goal of improving that student's life." Not only do team members talk about what's on the horizon for the coming week, but they also share personal challenges and successes. As Terzino puts it, "Sometimes we get tears in the huddle. But mostly, we get cheers."
The team supports each other through good times and bad. To keep everything in perspective, it embarks on "Culture Walks and Culture Talks" twice a year. Over lunch and on a stroll through the community, employees have the chance to confide in a mentor. Washington says the intent is to develop closer bonds within the team with some one-on-one time while providing the opportunity to address the hurdles employees face in and out of the office. "We ask the difficult questions. There are no taboos," he says. "Sometimes, people are afraid to ask for help. It takes a level of authenticity on the part of everyone here so we can open up and be ourselves."
By encouraging team members to be their true selves in the workplace, The Promise creates an environment where everyone can bring their authentic and unadulterated perspectives, passions, and strengths to bear for the benefit of the Kalamazoo community. Its team is truly on a mission.