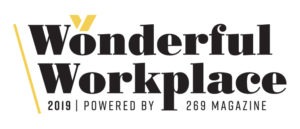 TELECOMMUNICATIONS COMPANY
Galesburg, MI
An office nestled in a beautiful wooded corner of Galesburg, MI, may seem like an unlikely place for the headquarters of a high-tech internet company.
Inside, CTS Telecom's technical skills and vast network empower it to compete with and win against the largest multinational corporations in their business. CTS also has another competitive edge—a committed and supportive team that is as bright and connected as its fiber-optic network.
"We Answer the Call" is their motto, and CTS's culture of team recognition and togetherness is obvious to any visitor. Chief Financial Officer Heather Haydo explains that the key to maintaining that culture is to bring all those smiling faces together regularly. For example, the full CTS team gathers for a daily morning meeting at the company's headquarters. "We take that time to review the plan for the day, but more importantly, give recognition and thanks for a job well done," she says. These meetings allow for interactions between teams that would otherwise rarely be in the same building while providing the perfect opportunity to celebrate stand-out moments together.
With high-fives in the hallway, office Olympics, and spur-of-the-moment celebrations, dull moments are few and far between at CTS. But fittingly, the CTS team has a bit more high-tech way to celebrate the stand-out work of their coworkers. "The most popular form of recognition we have is an app called Kudos," says Haydo. "It looks and feels a lot like social media. Employees create posts and give recognition and points to each other for going above and beyond." The team has since renamed its program "Chewdos" in honor of its mascot, Chewy T. Squirrel. "In our business, squirrels sometimes chew on and damage fiber optic cables," she explains. CTS team members collect their "Chewdos" throughout the year and exchange them for prizes, including cash, gift cards, and CTS swag.
More often than not, team members choose branded shirts over cash incentives. "We are all truly invested and proud of working here," Haydo says. "Almost 20 percent of our workforce has been here for over 20 years—the fact that we have such high employee retention speaks for itself." Whether providing tech support, setting up custom phone systems, transferring data around the world, or locating a squirrel bite, the team at CTS Telecom supports each other through it all. Every employee knows their hard work will be seen, recognized, and rewarded, making them more than willing to go the extra mile for each other, and each of the company's clients.