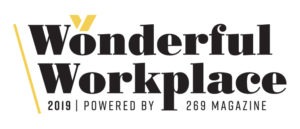 INDEPENDENT INSURANCE AGENCY
Kalamazoo, MI
Knock on the doors of Nulty Insurance, and you'll find a staff of experts in personal and business insurance, as well as employee benefit services, waiting to welcome you.
Helping clients prepare for whatever the future might bring is the company's top priority. But when it comes to looking out for its own employees, Nulty Insurance makes sure that its team members are covered too.
"There are many spokes on the wheel of wellness," says Director of Marketing Adam Burke. "We want to touch on every single one." For Nulty, this means that on top of offering excellent traditional benefits, the company also provides first-class physical, mental, and financial wellness programs.
Years ago, Nulty Insurance started getting serious about physical health. It tore down its cubicles and purchased stand-up desks for every team member who wanted one. Then, it began paying for gym memberships in full, providing a yearly $150 allowance for wellness-related events like marathons, and switching to flex-time. "People know they can take some time during the day to go to fitness classes," says Burke. "You'll see them change into their gym clothes and come right back after they get a workout in." He reports that the new benefits have had a significant impact on the health of his teammates—one employee credits the stair-stepper Nulty provided for helping her lose almost 40 pounds.
The company also believes that emotional and mental wellness bears the same importance as physical. It began by adding an Employee Assistance Program (EAP) to its list of benefits and inviting mental health professionals to speak on the seriousness of issues like anxiety and depression. Plus, for some therapeutic relaxation, Nulty welcomes a masseuse to its office each month for 30-minute stress-melting massages. "We treat our people as human beings, not just employees," says Burke. "Sometimes, it means being unconventional."
One of the other uncommon ways Nulty takes care of its team is by taking financial health into account. Whether team members are just entering the workforce or looking towards retirement, the company has found that hosting financial education classes and 401k counseling has relieved the financial worries that might hang over the workday.
"Health, mental, and financial wellness mean something different for everyone," Burke says. "The labor market is tight right now, and we have to make sure that our team is well cared for." For an annual check-up of Nulty's cultural health, its staff participates in an engagement survey conducted by Humanex Ventures. "One of the questions on the survey asks, 'Would you recommend your workplace to someone you know?'" Burke says. "Our goal is to provide the benefits and support our team needs to respond with an enthusiastic 'yes!'"