Recent data is showing that seasonally unadjusted jobless rates moved up in eight of Michigan's 17 labor market areas between December 2020 and January 2021, according to data released from the Michigan Department of Technology, Management & Budget (DTMB). "Michigan regional labor market trends in January were primarily driven by workforce reductions," said Wayne Rourke, associate director of the Bureau of Labor Market Information and Strategic Initiatives. "Regional labor force levels fell in all Michigan regions both over the month and over the year."
January jobless rates among Michigan regions ranged from 4.8 to 10.2 percent. Rate advances ranged from 0.1 to 0.9 percentage points, with a median increase of a third of a percentage point. The largest monthly rate gain was observed in the Northeast Lower Michigan Region. The Detroit, Ann Arbor, Grand Rapids, and Lansing metro areas all exhibited unemployment rate declines over the month. The Battle Creek, Jackson, Kalamazoo, Muskegon, and Niles-Benton Harbor regions recorded no rate change in January.
The Kalamazoo-Portage, MI metropolitan statistical area (MSA) had an unemployment rate of 6.3 percent in January 2021, which remained unchanged from December 2021. This is a 2.9 percentage point increase from a year ago in January 2020, which recorded an unemployment rate of 3.4 percent. Kalamazoo-Portage, MI MSA's unemployment rate is 0.5 percentage points below the national average of 6.8 percent but is 0.2 percentage points above the State of Michigan's 6.1 percent unemployment rate.
In the Battle Creek MSA, unemployment checked in at 7.7 percent in January 2021—the same rate as in December 2021. This is a 3.8 percentage point increase from a year ago in January 2020 when the jobless rate was 3.9 percent.
The region's other representing MSA, the Niles-Benton Harbor MSA, saw unemployment at 7.2 percent in January 2021. That rate also was unchanged from the prior month. That MSA's jobless rate was at 4.2 percent back in January 2020.
Southwest Michigan: County Unemployment Trends on the Rise
When breaking the numbers down by county, the combined seasonally unadjusted January 2021 jobless rate of 6.7 percent for the seven-county Southwest Michigan region is up 1.7 percentage points from December 2020. January 2021 jobless rates range from 5.9 percent in the counties of Kalamazoo and St. Joseph to 8.0 percent in Van Buren County. Visit the DTMB's site to see rankings by county, county labor force numbers, and an overall snapshot of Michigan's employment.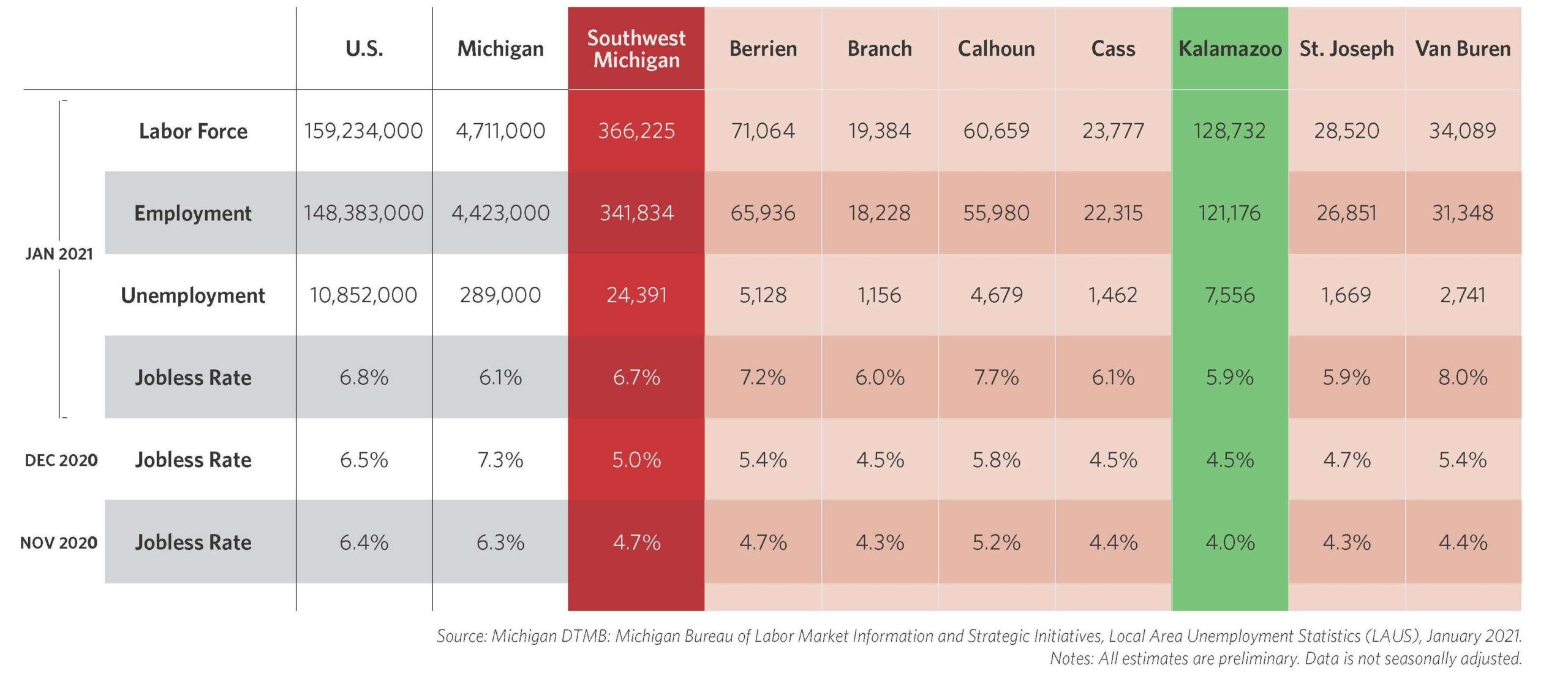 Source: Michigan DTMB: Michigan Bureau of Labor Market Information and Strategic Initiatives, Local Area Unemployment Statistics (LAUS), January 2021. Notes: All estimates are preliminary. Data is not seasonally adjusted.