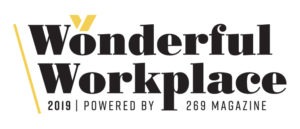 CREDIT UNION
Kalamazoo, MI
In business for over 85 years, Honor Credit Union prioritizes collaboration.
As a growing credit union with 24 locations throughout Southwest Michigan and the Upper Peninsula, "We place a premium on creating intentional spaces that keep our team members engaged, empowered, and connected," says Brand Manager Stacey Dodson.  Leaning into its values of teamwork and flexibility, Honor Credit Union built a new Operations Center in 2016. This building in Berrien Springs houses Honor's organizational departments, Virtual Member Center, and acts as a support hub for teams across the state.
Combining a hospitality mindset with modern design, Honor did not waste the opportunity to make the new office feel like home. "Everything about the building—inside and out—was intentional," says Dodson. Even the smallest details, like the color schemes and artwork, were chosen to reflect the credit union's values and brand. "For example, there's glass everywhere for a reason," she explains. "We're a financial institution, but we're one that's transparent."
In the spirit of transparency, Honor Credit Union designed multiple creative spaces for its employees, embracing an open office concept. Now, its individual teams are grouped together, but they all work side by side. Dodson says that the layout—with marketing working in the call center next to IT—increases collaboration between teams. But when someone needs a little privacy, they can always step into a conference room or sit on a comfy and secluded couch. "I love the fact that we can embrace both [privacy and collaboration]," she says. "I write a lot in my role, and sometimes I just need a quiet spot to work."
Walking through the credit union's offices, the atmosphere is electric in the shared spaces, with vibrant art on the walls and team members working together. But you don't have to go far to find a secluded corner couch or the coveted "spaceship" private booth on the top floor. Even more popular is the bookable relaxation room, complete with a massage chair. "We're growing, we're busy, and we are on the go constantly," says Dodson "We know how important it is to get the mental reset you need to do good work."
Honor Credit Union refuses to take a cookie-cutter approach to its clients' financials or the workplace. "To help our members achieve their financial dreams, we decided to break the traditional workplace mold, giving employees the option to work the way they can be most effective," says Dodson.