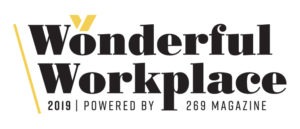 PRODUCT DEVELOPMENT FORM
Kalamazoo, MI
The headquarters of the full-service product development firm Tekna is a hive of activity, with industrial designers, mechanical engineers, graphic designers, and creatives of every kind huddled around computer screens and sketching out new ideas on whiteboards.
The space—with ceilings high enough to allow for an airplane to be suspended above the design team—leaves plenty of room for big ideas, but Tekna's openness is more than physical.
For professionals of many different disciplines to rally around one vision for a product, Tekna believes that authenticity is an absolute necessity. "We celebrate everyone's quirks and even their weirdness," says Senior Design Researcher Sarah Hollingsworth. "It's how we have meaningful relationships. We're just 'real' with each other."
Keeping it real seems to be working. As its client list expands, Tekna has been adding more and more perspectives to the mix—the team has almost tripled in the five years of Hollingsworth's tenure. And the firm shows no sign of slowing down.
Tekna's authenticity extends beyond its walls, too, defining interactions with clients and partners. Hollingsworth says that in the consulting world, it's easy to go through the motions on a project, even if you don't believe in the product. "Some firms may spend a client's money even if they don't think the idea will be profitable. We find that short-sighted," she explains. "When you're playing the long game, you need to be honest with everyone."
For creatives, it can be hard to let people get a look behind the curtain before designs are polished, but the transparency throughout the creative process is what sets Tekna's culture apart.
"There's something really risky about being that up-front and authentic," says Hollingsworth. "It forces you to be vulnerable." She believes that, by laying out what she calls the "creative messiness" throughout a project's lifespan, the firm is able to work through problems and design a product that's even better than expected. "Meaningful relationships create meaningful solutions," she says. "Our team is not an assembly line. We make the most of our diverse skillsets and our clients' input all the way through."