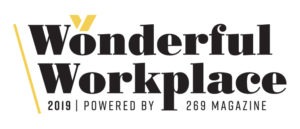 CONSTRUCTION AND DEVELOPMENT FIRM
Portage, MI
To witness the growth of Southwest Michigan is to see AVB's team in action.
The company is a leader in both residential and commercial development, and its people are driven by a passion for creating great places to live and work. "We have a desire to build things that most people might not think are even possible," says Chief Operating Officer and Principal Greg Dobson. "I can't pick a favorite [project]. It's like picking a favorite kid; you can't do it."
Like children, AVB's projects take a long time to grow up—Dobson says that the company's recent Corner@Drake development in Kalamazoo took 25 years from land acquisition to completion. To keep its team members on track as they take on massive, multi-year undertakings, AVB has adopted a unique mode of operations.
Behind the day-to-day operations of the organization, in much the same way as an operating system manages the functions of a computer, is AVB uses EOS®, the Entrepreneurial Operating System. "It's a business management system that allows you to break down big, scary-sounding objectives into bite-sized pieces," explains Dobson. Under this system, every employee is assigned specific goals and responsibilities. Each week, progress towards these goals is assessed with a trusted mentor while allowing for the individual's course to be adjusted if needed. With an organizational system like EOS, AVB can not only build hundreds of houses along with huge community hubs but also build up its team members at the same time.
By meeting regularly, team members can divide their yearly or quarterly goals into manageable daily responsibilities. "I also have a set of accountabilities," says Dobson. "The EOS gives us clear direction on what we're supposed to do and how we're going to be judged so we can coordinate big projects together and complete them on schedule."
AVB uses EOS like scaffolding that allows the company to reach even greater heights. "Our EOS also helps us lead employees through stages of professional development," says Dobson. "With clear, quantifiable goals, it takes the guesswork out of what that next career stage is going to look like and when someone is ready to make the leap." The real-time feedback and guidance from EOS provide AVB structure to stay the course and coordinate its long-term projects. So, when any AVB employee drives past a newly constructed neighborhood, they can point to a physical representation of their daily efforts and be proud of what their team has accomplished together.
Editor's Note: To learn more about EOS, created by Gino Wickman and owned by EOS Worldwide, and how your company can use it to your advantage, go to eosworldwide.com.