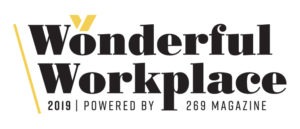 BANK
Kalamazoo, MI
A visit to First National Bank of Michigan, located in the heart of downtown Kalamazoo, comes with a complimentary cup of locally brewed coffee and warm smiles from familiar faces.
"We have customers who come in every day," says President and CEO Dan Bitzer. "We think of everyone who walks in as family." And because much of its team has worked together for the entire 13 years the bank has been in the community, its internal environment is much the same.
"First National Bank of Michigan is a community bank, and a community bank means just that," Bitzer says. "We're here to service the customers and the community the best we can, and it starts with our employees." The company has 87 employees spread across branches in Grand Rapids, Holland, Kalamazoo, and a loan production office in Lansing; in each market, all decisions are local, made by a local management team and Board of Directors so the bank can always do what's best for its community.
But it's not only business decisions that First National Bank of Michigan sources locally. Just as it doesn't buy the coffee served in its lobby from the grocery store, it purchases its pens, staplers, paper, and other office supplies from local vendors. "It's very important to us to support where we live, work, and raise our families," says Bitzer. Staying true to this value, the bank purchases everything it can, down to branded mugs and clothing, from local businesses.
As Kalamazoo has grown in recent years, so too has First National Bank of Michigan's location there with its team of 43, leaving it a little cramped for space. But when it came time to search for a new location, the bank never dreamed of leaving its city. When team members packed up their desks in October, they didn't have to go far—its new location was right next door! "
We did a full renovation of the building," says Bitzer. "We did it for our team, but also the community. We spent extra dollars to make sure the whole block looks first-class for Kalamazoo." Plus, ever thinking of its local community, First National Bank of Michigan made sure to hire only local contractors and subcontractors to complete work on its new digs, something Bitzer says was no easy task.
"Our team members and our customers like to see us put money back into the city," he says. "At the end of the day, we're here to serve our community—every decision is made with that in mind. Nothing could be more important to us."