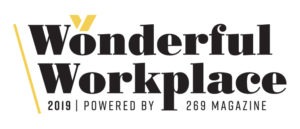 DESIGNER AND MANUFACTURER OF CUSTOM ENVIRONMENTS
Kalamazoo, MI
It should come as no surprise that at Landscape Forms—one of the world's premier manufacturers of outdoor site furnishings, lighting, and structures—people like to get outside.
The company's benches, streetlights, bike racks, and more can be found everywhere from the Kalamazoo Mall to Barbados to London. "Chances are you've seen [our products] and not even realized it," says Jim Marshall, vice president of culture. "My family is embarrassed to travel with me because I'll be lifting the lids on trash cans to see our sticker on the bottom."
Landscape Forms, Marshall explains, constantly tries to find new ways to make the outdoors a place where people can learn, work, play, and relax. "We like to say that we're all designers here," he says. "We often wax poetic about how we're artful problem-solvers."
The company found that the best way for a team to break out of conventional thinking is to break out of the traditional workplace. "At Landscape Forms, when we're trying to figure out how will we build a new product, we want to collaborate," says Marshall. "If you walk through our offices, you'll see whiteboards all over and drawings pinned up on the walls. But for me, if I have an undisturbed hour outside with the breeze blowing, I can get so much more done."
Although the company's outdoor campus has plenty of benches, chairs, and tables, the most sought-after outdoor space to work in is its Upfit outdoor space. "Upfit came out of our study of human behavior and insights into how people work and interact outdoors," says Marshall. The structure is outfitted with whiteboards and power outlets as well as automated louvered roofing that automatically adapts to weather changes. Designed for spaces like university campuses, hospitals, and public parks, Landscape Forms' own Upfit structure is the most popular on-site workspace for both meetings and focused independent work. "When people ask, 'Where are we meeting?' chances are, it's the Upfit tables," says Marshall.
Imbedded in Landscape Form' credo is the ambitious goal of doubling every six years. Though this may seem aggressive, it's a mark the company has been more than able to meet during its 50-year history by smashing preconceptions and encouraging creativity. "No matter your role at Landscape Forms, we want you to break the mold," says Marshall. "We have to constantly shake things up. We want people getting out from behind their desks and going outside. Even in our manufacturing plant, we never bolt anything down because everyone knows it's not going to be there in six months."