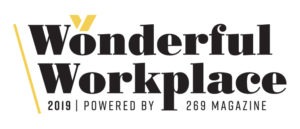 RISK MANAGEMENT ADVISORS AND CONSULTANTS
Kalamazoo, MI
Gibson is always thinking ahead. Whether providing insurance to cover illness and injury or even building a succession plan for a family business, the company is dedicated to managing risk.
Gibson recently expanded its presence in the region. One of the company's values, "Pursue Growth," is the force guiding this expansion. However, its belief in growth applies to more than just business decisions. "Professionally, I have team leaders pushing me to pursue the next step in my education and designations," says Client Manager Laura Van Dyke.
Van Dyke grew up in Marshall, Michigan, and joined Gibson's team in South Bend, Indiana, after graduating college. Four months later, the Kalamazoo location opened its doors. "I thought I was way too new to ask to move," she says. "I was so surprised how flexible my team leaders were in making sure that if I wanted to move closer to family, I was able to do that."
Van Dyke's experience not only speaks to Gibson's guiding principle "Do the Right Thing" but also its most defining value—to "Own Your Future." In the spirit of owning the future, Gibson operates with an employee stock ownership plan (ESOP) that gives its team part-ownership and a genuine interest in the company's success. With the ESOP comes the responsibility and power to make decisions like a stakeholder. "There's a lot of accountability in getting results for clients and taking care of them," Van Dyke says. "I know that if I take responsibility for something with a client, I've got leadership support."
The company also gives its team complete control over its work-life balance with flex-time and unlimited paid time off. Its team is so results-oriented and client-focused that these policies are never abused. "Actually, the biggest challenge is to get people to take a vacation!" Van Dyke says. But when it's finally time to take a break and celebrate a job well done, the team is sure to make time for togetherness and investing in the community—like by building bunk beds for kids in need.
By staying true to its founding principles, Gibson has set itself up for success both inside and out. As Van Dyke says, "We never let our clients or our team down."