Work Hard, Play Hard!
We can't help but celebrate SalesPage Technologies, a winner of the 2020 Wonderful Workplaces competition powered by FIRST & 42. SalesPage is a software, data, and services provider to asset management firms large and small, across the globe. A self-proclaimed "proud group of nerds," its team is made up of data analysts, software engineers, technical writers, project managers, IT specialists, and more. The people and their knowledge, along with extraordinary teamwork, make SalesPage a great partner to its clients and the community. While the company has locations and team members across the U.S., its home office in Kalamazoo is the heart of the company.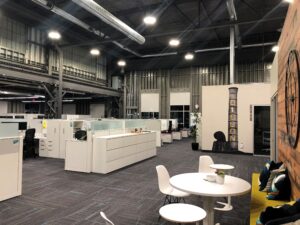 The team loves to have fun together while producing excellent results in the process. Aric Faber, president and CEO of SalesPage, shared some of the values of the organization: "Work Hard, Play Hard! Love what you do and who you work with. Have the hunger and humility to never stop learning, growing, and to always strive to be a positive force within your team and community." Continue reading to hear from Ana Evans, director of marketing at SalesPage, for more on what makes the company stand out as a wonderful place to work:
What was the biggest achievement during 2020 for SalesPage?
We managed to experience growth during COVID-19! We started the year off with a bang, acquiring a software provider, SalesStation, and growing our team and offerings. When COVID-19 hit, we transitioned to a virtual workplace seamlessly. We continued to bring on new clients, grow our family of products—acquiring a 22c-2 compliance service, Clarity Compliance, in October—and added five new team members, bringing us to over 70 employees. We have been fortunate to experience growth in challenging times. As a result, we aspire to provide support for our communities and team members' philanthropic efforts. We strive to be a shining beacon in our industry and all the communities we serve.
What makes the workplace culture at SalesPage unique?
Our core values (innovation, accountability, knowledge, teamwork, passion, and family) and our leadership team foster a culture where each individual has a strong sense of how their role contributes to the greater good and helps fulfill our vision—to be the most respected and in-demand partner for the world's most forward-looking financial companies. We have fun together, working hard and playing hard, whether it's in the depths of a big project or having some fun—sipping on a cold brew at a 5:01 Zoom happy hour, enjoying a Sweetwater's donut on Oberon day, or volunteering in our community.
Why do you love going to work each day?
People, community, and workspace. I started at SalesPage right out of college and have grown with them through changes in office space, the economy, and team members. Moving into The Foundry—a living office space in downtown Kalamazoo—was a great fit for me and our culture. Whether it's a weekly stand-up with my immediate team, catching up with a friend from the suite next door, or sipping on a hot cup of Water Street coffee in the morning, all these things fill me up and keep me loving each workday.
How do leaders at SalesPage build engagement within their teams?
Our senior leadership starts each all-company meeting with our vision and values. Who we are and everything we do rolls back to those, and they help us stay aligned and working together fluidly. At a team-level, managers hold regular team stand-ups where each member contributes whether it's sharing knowledge or asking for help.
How did SalesPage handle workplace status during COVID-19 and care for employees?
As a company with a portion of our team members already working remotely, the shift to a 100 percent remote workplace was seamless. We leveraged Microsoft Teams heavily for internal communication and work. Client engagement and meetings stayed the same as the main medium for communication had been web conferencing. We mandated using the video feature during Teams and Zoom calls as we found that it helped team members feel more connected and engaged. When our office opened back up, our office manager worked with The Foundry and other businesses in the suite to ensure the safety and well-being of employees who elected to return to the office.
As a director of marketing and mom of two elementary school students, COVID-19 presented resourcing challenges. Thankfully, SalesPage's support of flexible work hours ensured that both work and virtual school responsibilities got done.