A Collaborative Team That Spreads Hope in Our Community
Lighthouse Group, a full-service insurance agency, is a 2020 Wonderful Workplaces winner. The company offers comprehensive solutions in personal protection, commercial insurance, and employee benefits. The Lighthouse Group team offers innovative, custom support based on strong client relationships and a deep understanding of their insurance product.
Lighthouse Group is employee-owned with experts in the industries that make Southwest Michigan thrive, including manufacturing, construction, transportation, and hospitality. With cost-sharing options, in-house risk management and claims support, and extensive financial reporting packages, Lighthouse Group delivers Southwest Michigan's premier insurance services.
The collaborative culture enables team members to help their clients and make insurance an easy and fun conversation for all involved. Ally Parker, an account manager at Lighthouse Group said, "It's wonderful to work at Lighthouse Group because we truly do operate like a family. We respect one another, laugh together, and care about what we contribute to our community. The collective effort from management to team members creates an incredible culture of teamwork and support." Continue reading to hear from Brand Manager Alexis Holmes about why Lighthouse Group is a wonderful place to work.
What was Lighthouse Group's biggest achievement during 2020?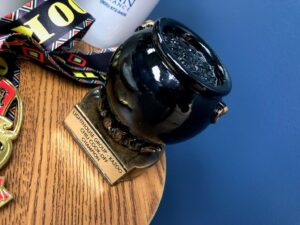 Our biggest achievement has been keeping in touch throughout this pandemic and maintaining positive employee engagement and morale in such a challenging time! Prior to the stay-at-home order and subsequent social distancing that is keeping most of us working from home, our team had so many fun engagement opportunities like an annual chili cookoff, monthly potlucks, and fun, light-hearted office pranks. Things like these are such a great way for us all to connect as an office and spend time bonding. Since we have lost these simple pleasures (hopefully only temporarily!) we all take the time to chat and say "hi" when interacting with each other digitally. Even when sending a simple email, we still check in with each other, which is so reassuring in these uncharted times. Being able to mirror our in-office culture virtually feels like a true achievement.
What is unique about the workplace culture at Lighthouse Group?
Our workplace is like a little family, and I love it! Even though we work on different teams and have different roles, we all rely on each other—from IT support to moral support—we have each other's backs and will always cheer each other on. In our office, your questions are not simply met with an, "I don't know," instead, you are met with a positive, "I don't know, let's find out."
Another unique aspect of our culture is the diversity of tenure. They say insurance is "an aging industry," but Lighthouse Group has created teams with a wide variety of experience. Our Kalamazoo team has folks with over 40 years of industry experience and some who joined us within the last couple years, right out of college. Being able to bring our experiences together and learn from one another in all stages of life is truly exceptional.
Why do employees love going to work each day?
The team, the collaborative culture, and truly being able to help our clients. As mentioned, we are never left on an island without any support. We are constantly collaborating on larger projects and small daily inquiries alike. In regard to helping our clients, we know insurance isn't always a fun conversation to have, so having the opportunity to make a tough call a little less heavy by treating each client like they're part of our family really makes the job so worthwhile! Helping clients see the big picture of their protection instead of just page after page of legal jargon is very rewarding.
How do leaders at Lighthouse Group build engagement within their teams?
They are committed to hiring and developing the right people that are emotionally invested in our organization's mission and vision. Employees trust that their teams will receive quality new hires because they know how much leadership values prosperity and culture alike.
Leaders ensure employees have the resources to be successful, such as educational opportunities or fulfilling unique technology needs.
There is commitment to consistent, periodic updates about our organization's big picture, so teams know the impact they are making and the result of their efforts.
There are daily feedback sessions between leaders and employees. These are called "Team Huddles" where the team can check in on one another, discuss the upcoming day, and figure out where collaboration could be beneficial.
Our leaders are committed to companywide employee engagement that makes such a positive impact on our teams across the company. For example, our leaders:

Arrange regular employee gatherings in the office (pre-COVID, of course).
Celebrate people for birthdays, anniversaries, corporate and individual achievements.
Form employee committees to support our organization's strategic initiatives and ensure employees are on board and have a voice. For example, we've had employee teams to contribute to our corporate rebrand, help decide on major technology updates, discuss office relocations, etc.
Create and invest in an award-winning Wellness Program (2020 Best & Brightest in Wellness winner!)
Organize volunteer opportunities for employee teams at local soup kitchens, Special Olympics of Michigan, the American Red Cross, and the Honor Flight Network to name a few.
Annual summer and holiday events that bring employees and their families together
How did Lighthouse Group keep employees engaged and cared for during COVID-19?
COVID-19 made small things really hard! We lean on each other a lot throughout our workday, so not having that immediate colleague a desk or two away was a huge adjustment. Thankfully, Lighthouse Group was quick to invest in the technology we needed to work from home and continue to support our clients and each other. This included laptops for every employee, a work-from-home compatible phone system, and extended video chatting capabilities. In addition to this quick technological response, Lighthouse Group has made it clear from the beginning that they are taking the health of employees, our families, our clients, and our community very seriously. They've created a COVID-19 Task Force, with our senior vice presidents and president and CEO, that delivers messages frequently updating employees on the status of our work-from-home practices. The Task Force also conducted employee surveys to gain an understanding of how employees were feeling about returning to in-office work and what is important to us about workplace safety. Human Resources has also done a great job keeping us motivated and engaged when our fun office get-togethers cannot happen. They've sent regular communication including: "Manageable Mondays"—motivating content for Monday mornings; created an employee work-from-home selfie video; and in place of March Madness, they created a "Battle of Bands" bracket challenge as well as a "Movie Madness" version. They have also encouraged all employees to take advantage of our Employee Assistance Program, which includes free counseling sessions.
What is one workplace custom that makes Lighthouse Group unique?
If I had to pick one workplace custom to highlight, it would be our Holiday of Hope volunteer season. Last year was our first annual "Holiday of Hope" season. All Lighthouse Group locations spent the month of November volunteering at homeless shelters across our footprint to help provide individuals experiencing homelessness a sense of hope. Our Kalamazoo office volunteered with Kalamazoo Gospel Mission. Our office split into teams and took turns volunteering at mealtime. In addition to volunteering, Kalamazoo Gospel Mission gave us a tour of the facility and was able to educate our team on homelessness in our community. Continuing with the theme of spreading hope, December was a month of donating. Our Kalamazoo office collected donations for Crayons 4 Kids who created personalized gifts that were delivered to every child at Bronson Children's Hospital during Christmas. This was such a powerful season for our team, and I'm thankful Lighthouse Group recognized the abundance of resources we have as an organization and helped provide employees the opportunity to learn, give, and spread hope in our community.