Faith, Family, and Then Work
We're celebrating Allied Mechanical Services, Inc. as a 2020 Wonderful Workplace winner. Allied Mechanical Services (AMS) is a mechanical contractor that has been servicing customers for over 35 years. Their service team believes each customer's facility is unique and that it doesn't run like any other. That's why AMS partners with every customer to create solutions that work for each building's needs. With like-minded customers, AMS strives to deliver smart solutions, comfortable environments, and optimal building performance, to achieve their dream of elevating the image and integrity of the mechanical industry.
"To me, this is a faith-based company that serves a higher purpose than just making money. Our values include honesty, integrity, excellence, and doing the next right thing. When you follow these values, you provide a catalyst for excellent customer service. Our core values are a genesis for an environment which is prime for growth both personally and professionally," said Jason Boersma, business development lead and partner at AMS. Read on to learn more about Allied Mechanical Services, Inc. from Tim Evans in business development at AMS.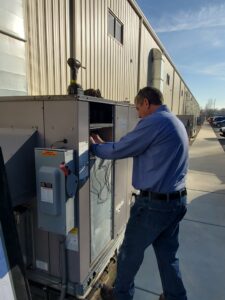 What was the biggest achievement for Allied Mechanical Services, Inc. during 2020?
AMS was able to partner with customers to design and build custom Lexan dividers and portable Lexan dividers. Our sheet metal team created nose pieces for masks and shields. Our service team was successful in onboarding a new customer with 14 commercial buildings and growing with our existing customer base. We were also awarded a national award for diversity. Our president has participated on many diversity seminars where he described the AMS culture and intentional diversity.
What is unique about the workplace culture at Allied Mechanical Services, Inc.?
AMS puts faith and family first, with work being third. Our leaders believe that if you take care of your faith and employees, the business will take care of itself. Our leaders offer a great deal of autonomy, which allows the staff to flourish and take ownership of procedures and tasks. This uniqueness is not for everyone, and I think that it is okay. For the people who are able to take ownership of their role it is like you are your own CEO. All of your successes and failures are a direct reflection to the work you put in. We are held accountable by our teams, which we support and lead, instead of our managers above. This fosters a servant leader mentality. "How can I serve you and make your job easier?" is representative of this. Our culture of "how can I serve you" is reflected by our service techs when they interact with the customers. They treat buildings as their own and will go out of their way to prevent headaches for the customer even if it is not in the original scope of work.
Why do you love going to work each day?
I serve as business development for the service team, and every day is different. You make a plan the day before, and the next morning you can throw it out the window. As a team dedicated to personal ownership and service to others, we keep our core values at the root of everything we do.
How do leaders at AMS build engagement within their teams?
There is trust and an expectation that people will do their best, and they know that they will make mistakes, as we all make mistakes. It's not how you fall down, it's how you stand back up which is what allows the growth. As a result, we can move forward knowing that there are people to talk to and to help work through issues when they arise. At AMS there is not a hierarchy that is overseeing us and managing our every move. At the end of the day, people are trusted to show up and do the job.
How did AMS handle workplace status during COVID-19 and care for employees?
Communications were routinely sent out from our safety director, HR director, and president describing how our customers' site requirements, governor's directives, and the CDC guidelines changed our direct activities and procedures.
What is one workplace tradition that makes AMS unique?
Pre-COVID-19, AMS would have a family picnic during each summer, which would include bounce houses and games for the kids. Our suppliers would donate items to raffle off. The employees would purchase raffle tickets in an attempt to win prizes. All money collected would go to local nonprofits. Some of the recipients of the funds are Degage Ministries, Mel Trotter Ministries, and the Kalamazoo Gospel Mission.