With the onset of COVID-19, professors and staff from Western Michigan University' (WMU)'s Department of Industrial and Entrepreneurial Engineering and Engineering Management and Information Technology labs looked for ways their resources could help. Noticing global activity within the maker space around designing face shields, the teams identified a pattern online created by 3DVerkstan, a 3D printing collective based in Sweden, and turned the switches of their 3D printers to "on." Soon, they began prototyping the shields using plastic filament and transparency sheets similar to those used for overhead projectors.
"The first prototypes using the [overhead] transparency sheets were flimsy and too yellow for use," said College of Engineering and Applied Sciences Interim Dean Steven Butt. "We reached out to Fabri-Kal for thicker sheeted material. Fabri-Kal was working on a similar project with Schupan & Sons and Tekna and was able to share some extra sheeting."
Enabling Efficiency
With the demand growing for shields at Sindecuse Health Center on the WMU campus, the teams wanted to make the shields as fast as they could. The best way to speed up the process was to 3D print stacked headbands with a layer of material skipped between each headband. The stacked headbands were then broken apart during assembly one by one. The plastic shields were added later.
The team ran into challenges when trying to break the stacked headbands apart though.
"We tried a variety of tools to pry them apart—utility knifes, putty knives, and even oyster knifes," said Allin Kahrl, a machinist at WMU's College of Engineering and Applied Sciences. "It became clear that if we had customized tools, the process would become more efficient. So, we designed shearing pliers [on our 3D printers] to start the separation, then used splitting knifes suited to the component [to complete the break]."
"Stacking parts in the printers controls a few different kinds of overhead, and that's really where we gain speed. The printers have a calibration and heating process that runs at the beginning of each job, and it doesn't change whether the program generates one part or 36. Likewise, there is a cooldown period at the end that doesn't vary a whole lot with the number of parts in the machine. And, of course, there is a period of human operator interaction between the end of one job and the beginning of the next. All three of these sources of overhead are amortized across whatever quantity we can make at one time," explained Kahrl. "And by printing and using tools that allow us to print the parts directly on top of one another, we don't have to print some sort of breakable structure between parts, which would add cycle time to each one."
The teams have now sent their files to other groups around the university to share knowledge in this time of social distancing. "There's a team at WMU's College of Aviation in Battle Creek producing shields too," confirmed Butt.
Delivering the Finished Shields
Using the new techniques, the teams across WMU's campus have increased production from 150 to more than 200 shields per day. More than 2,000 shield have been produced thus far.
Finished shields are dropped off outside the Sindecuse Health Center where health care workers are notified to bring them inside to minimize contact. The health center, which provides services to students living both on and office campus and university employees, makes sure all the product is used.
"Overflow product is donated to the Kalamazoo Gospel Mission, local hospice, and nursing homes," said Butt. There is not shortage of need and every mask counts.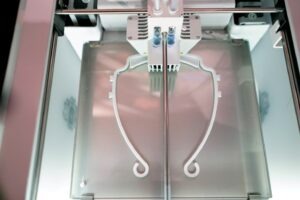 Face shield on 3D printer.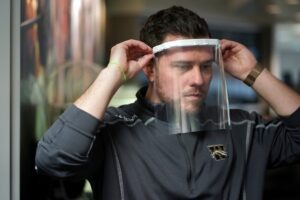 Completed face shield.