For over 20 years, Touchdown for Diabetes, a local charity event, has been raising money and awareness for local causes that help change the lives of people with diabetes. Luckily, the team organizing the event isn't made up of rookies, which has allowed them to quickly pivot and run for the touchdown with a virtual event. The annual live networking party, which has historically featured a catered buffet, food trucks, cash bars, live music, tailgate games, and a grand prize raffle for $20,000 will resume in 2021. This year brings an awesome virtual event that will raise money for the underinsured adult patients at the Ascension Borgess Diabetes and Endocrine Center and local children with diabetes to attend Camp Midicha through Diabetes SoluT1ons.
"There are more than a million people in Michigan that have diabetes, and 80,000 of those live in southwest Michigan," said Tina Cole, a team leader within the Touchdown for Diabetes planning team. "There's some really serious complications that go along with it, and it's a really, really high maintenance disease. It's a big financial burden, and the insurance programs don't adequately cover them." The Touchdown for Diabetes event keeps all of the funds completely local and partners with the Ascension Borgess Diabetes and Endocrine Center Underinsured Clinic, helping adults receive free medical care, diabetes education by a Certified Diabetes Care and Education Specialist, labs, glucose meters and testing supplies, and assistance obtaining life-sustaining medications.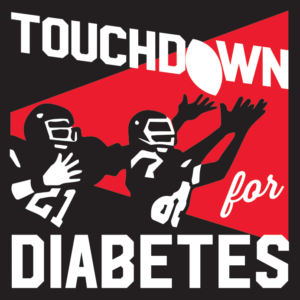 The need this year is greater than ever to support those with diabetes. "According to the CDC, diabetes is the second most common underlying health condition that's associated with severe outcomes in COVID patients," said Tina. "It's really important that we as a community come around and help people who are even more at risk during this COVID crisis." Live updates on the event will be posted to the Touchdown for Diabetes Facebook page and be sure to check out the event website for more information on registering and bidding.
Tina has been working for this cause for four years, helping with administration and organization within the planning team and chairing the marketing and promotion subcommittee. "We thought we'd give it the best shot we could and do things through an online medium this year instead of the live event," said Tina. The live auction bidding started yesterday, September 17, and will close on Thursday, September 24. In addition to the online live auction, which features items like a framed "Time" September 22, 1947 magazine cover of Jackie Robinson, numerous pieces of football memorabilia, an outdoor pickleball instruction package, and a spa day at Inspirations Med Spa, there will be a 50/50 raffle for the chance to run it home with a cash prize.