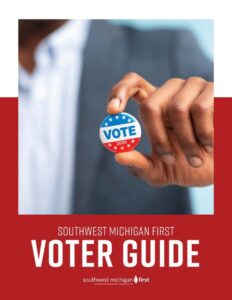 From registering to vote through casting a ballot on Election Day, informed voters are empowered voters. As you prepare for the big day on November 3, 2020, the best thing you can do for your voter self is to make a plan of action for when you enter that voting booth or fill in the bubbles on your ballot before dropping it in the mail. To aid in your empowerment, the team at FIRST & 42 teamed up with Southwest Michigan First to compile a Voter Guide profiling candidates running for important local, state, and national seats here in our region. Inside its pages you'll find out what motivates the candidates and their plans for accomplishing top priorities, even their favorite song on the campaign trail, to help you get to know them better.
There's a lot to think about before you make your decisions, and we get you may be feeling overwhelmed. Stay the course and keep these words of inspiration from Southwest Michigan First CEO Ron Kitchens in mind: "You are not powerless! You do have a choice that can make a difference. The November General Election is your opportunity to make 2020 end differently than it began. By voting for your candidates of choice in the upcoming election, you now have the ability to chart the course of our region's future." Print off this information and find a comfortable chair. Download it to your favorite device. Whatever you do, we hope you use it to make your plan to get your voice heard on the first Tuesday in November. Download it here.
Who? What? When? Where? Why? and How by the Way?
Do you have a question that we didn't ask our candidates? If so, please tell us so we can pass it on. In the latter half of October, Southwest Michigan First will partner with WWMT Newschannel3 on a series of Candidate Forums. During the 5:30 p.m. time slot, candidates will join WWMT's anchors to answer relevant questions, including possibly yours if selected. If you'd like to participate, today we're collecting questions for those running to represent the 60th, 61st, 63rd, and 66th state districts. Submit your questions for state representative candidates here. As a refresher, here's who you'll see on the ballot for those roles:
Beth Griffin (R) – 66th District
Have a Question for Your Candidates for U.S. Congress?
Word on the street is that a lot of our readers have been checking out our Voter Guide. Put together in partnership with the team at Southwest Michigan First, this handy tool can help you brush up on what key candidates in our region stand for. Beyond their public policy priorities which are key to know for Election 2020, they even dished to us their favorite "dish." This week, we want to call your attention to pages five and six which profile your candidates for U.S. Congress in the 6th District—Jon Hoadley (D) and Fred Upton (R). What would you ask them if you could? Well, guess what? We have an opportunity to pass your questions along to the news team at WWMT Newschannel 3 for their Candidate Forum featuring Jon and Fred. Submit your questions for U.S. Congress 6th District candidates here.
Got Questions? Kalamazoo County Commission Candidates Have the Answers
As the election on November 3 quickly approaches, it's more important than ever to prepare for when you fill out your ballot, which includes doing your homework. Don't shy away just yet! Doing your homework can be easy with our Voter Guide made in partnership with Southwest Michigan First. This is your one-stop-shop to find out all you need to know, including who's running, which seats are up for grabs, candidates' policy priorities and goals, and even fun facts about candidates like their favorite movies. If there's more you're dying to know, you have the opportunity to ask the candidates yourself. We've teamed up with WWMT Newschannel 3 to bring you a Candidate Forum series featuring candidates for important local and state seats. Starting next Monday, October 19, candidates seeking election for the Kalamazoo County Commission will be live at 5:30 p.m. to answer your questions. Submit your questions here so your voice can be heard. You might just get an "A" on that homework assignment yet! As a refresher, here's who you'll see on the ballot for Kalamazoo County Commission: