Representatives from the Western Michigan University (WMU) Business Technology and Research (BTR) Park North and newly erected Ascension Borgess Cancer Center came together today to celebrate a ribbon cutting ceremony marking the achievements of the two major community developments.
The event's focus was on the completion of the Ascension Borgess Cancer Center, the first corporate partner to locate in the park at 2520 Robert Jones Way in Kalamazoo, Michigan. Conveniently accessible from US-131 and situated on 8.2 acres off Drake Road between Stadium Drive and Parkview Avenue, the 38,000-square-foot cancer center will offer medical oncology, hematology, and infusion services in a multi-level naturally contemporary clinical space. Offering a powerful combination of board-certified clinical experts on staff utilizing state-of-the art technology and treatment plans, the building's position in a serene, natural setting promises to allow for compassionate and personalized care.
Kicking off the celebratory presentations by local community leaders was Lynn Chen-Zhang, chief operating officer and chief compliance officer of Zhang Financial who also serves as chair of the WMU Board of Trustees and president of the WMU Foundation. "A ceremony like today, reminds us of why we choose Kalamazoo to be our home. It takes committed organizations and individuals working together to ensure the continuing success of the community. The expansion of the BTR Park as well as the establishment of this beautiful facility is essential to ensure the health and well-being of the residents of the community," said Chen-Zhang.
According to WMU Associate Vice President for Community Partnerships, the park's expansion was the result of more than 40 years of community engagement and partnerships and represents new opportunities for innovation and economic development in Oshtemo Township. Longtime project partners included the U.S. Department of Commerce's Economic Development Administration, WMU, City of Kalamazoo, Southwest Michigan First, Road Commission of Kalamazoo County, City of Kalamazoo Public Works Division, and more. The results of these partnerships have had numerous positive implications on the local economy.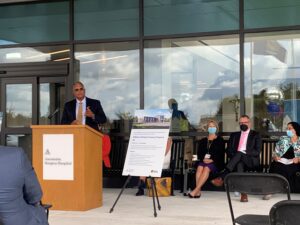 Acknowledging the progress made since the creation of the BTR's first phase and potential of future enterprises for phase two, WMU President Dr. Edward Montgomery recalled the historical contributions of those who saw the potential for a site that would bring together education, health care, innovation, and entrepreneurship. Past WMU Presidents Dieter Heineke and Elson Floyd, as well as community leaders such as former state representative and former Mayor Robert Jones, for whom the center's road is named, were all advocates for establishing the BTR Park.
"Since it was established, the first phase of the BTR Park has given 21st century innovators, technologists, bioscientists, and manufacturing, engineering, energy and other areas the chance to put their ideas to work. The first BTR Park was established down the road where we are standing. It has attracted $150 million investment, generated more than 1,400 jobs, and numerous internships, co-ops, job shadowing, and experiential learning opportunities for students at the various businesses," said Dr. Montgomery.
Welcoming Ascension Borgess President Peter Bergmann to the podium, Dr. Montgomery shared a "token of appreciation of the partnership between Ascension Borgess and WMU" with a WMU-branded flag in the university colors of brown and gold. Bergmann continued to carry out the themes of partnership and teamwork in his remarks that moved the project from concept to infrastructure.
"When [the Ascension Borgess team looked at] where can we put this, we looked at ideas of access. And what's the most important thing when you have cancer: You don't feel well, and you want to have the best access [to care] that you can easily to get to. This building does that," said Bergmann.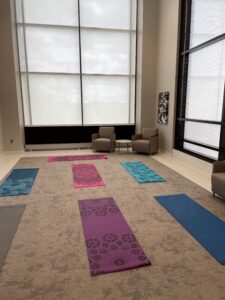 Set to open for patient care on September 20, 2021, the multidisciplinary team approach of the center is intended to allow patients access to advanced care close to home for those living in Southwest Michigan. Cancer center amenities include a full on-site laboratory and compounding pharmacy, 33 infusion bays, five private infusion rooms, and 35 exam rooms. Collaborative research, genetic services and a tumor board will also be available at the location. In addition, services will include a nurse navigation program, survivorship program, medical social work, dietary services, patient-centered wellness programs, yoga, and access to prevention and early detection programs, cancer education, and support.
Focus on patient care guided building and site development. From close parking access to the entrance to views out windows, everything at the site was designed with the patent in mind as well as sustainability. Environmental studies were conducted by Kalamazoo-based Envirologic, architectural design completed by Fishbeck, Thompson, Carr & Huber, and construction done by AVB, the building has earned a silver medal certificate from the Sustainable SITES Initiative for its deliberative intention to conserve and protect threatened species, plants, and animals.
Learn more about WMU's BTR Park 2 at https://wmich.edu/btr/btr2.