Passion, Purpose, Solutions, Genuineness, and Servant Leadership
FIRST & 42 is celebrating the region's outstanding workplaces with our 2020 Wonderful Workplaces competition. Today we would like to extend a warm congratulations to Consumers Credit Union for being crowned a champion in this year's competition. Consumers Credit Union is a Michigan-based credit union offering a range of personal and business banking services to help its customers meet their financial needs. For more than 35 years, Consumers Credit Union has averaged 18 percent annual growth and accumulated more than $1 billion in assets. Locally owned since 1951, more than 100,000 members across the lower peninsula of Michigan choose Consumers to help them achieve their financial goals and dreams.
"In recent years, our growth has been fueled through culture and performance," explained Kit Snyder, president and CEO of Consumers Credit Union. "And while new technology is something we're always pursuing—the other half of the equation is our outstanding people at Consumers. Our culture is unmatched. And because we have happy employees, our members are better served." Read on for the full feature of Consumers Credit Union.
What was Consumers Credit Union's biggest achievement during 2020?
When the state of Michigan shut down earlier in the spring of 2020 due to COVID-19, most financial institutions, including Consumers Credit Union, closed their doors and serviced members through the drive thrus only. Consumers was in a most unique position in that an investment in replacing traditional teller tubes with TellerPlus+ banking (i.e., Interactive Tellers) in the drive thrus the previous summer meant employees could truly "Stay Home, Stay Safe."
The West Michigan-based credit union was able to quickly pivot over 90 percent of its workforce to remote within two weeks when the pandemic first hit. "During the height of the pandemic, we went from 18 percent to 100 percent of our transactions happening through TellerPlus+ banking," said Chief Operating Officer Scott Sylvester. "We were able to pivot so quickly thanks to our cross-training efforts, which saw as many as 34 retail staff employees serving members through the TellerPlus+ machines."
During this time, Consumers openly shared company best practices and return to work plans with partners in the business community and continued to seek feedback and implement new procedures to support staff—even continuing wellness engagement through an app and holding virtual, staff-led exercise classes.
What is unique about the workplace culture at Consumers Credit Union?
What's unique about the workplace culture at Consumers Credit Union is that it's an organization that truly lives and breathes its mission and core values. We are a company that hires based on our core values of being passionate, being purposeful, being the solution, being genuine, and being a servant leader. These non-negotiables make up a culture of people that are ready to tackle any challenges that a growing organization with over 35 years of 18 percent annual growth may face. Together we deliver exceptional member service that we can be proud of, and this makeup allows the culture to embrace empowerment that each employee is able to express.
Why do you love going to work each day?
Jennifer Smith, talent acquisition and retention manager at Consumers, said: "I love coming to work each day because I am surrounded by positive, passionate people. People that genuinely care about the success of the organization, the success of each and every one of their coworkers, and every single member that makes up the credit union. Not only are we focused on work/life balance but also the philosophy that if we have happy and engaged employees, we will have happy and engaged members. This means it starts with the employee and showing that appreciation through benefits such as a rich healthcare plan and a 100 percent match up to 10 percent on 401(K)."
How do leaders at Consumers build engagement within their teams?
Leaders at the credit union build engagement with their teams by getting to know each and every one of them as a person first. Our leaders understand that not every employee needs to be managed the same way, and that each employee has influences outside of work that can influence engagement. Every manager holds, at minimum, a one-on-one meeting each month with the employee. The meetings are focused on the employee's accomplishments and development, and managers often take this opportunity to provide praise to the employee. In addition, you will often find leaders building camaraderie with their teams by doing teambuilding exercises such as going bowling together, volunteering with Habitat for Humanity, flying frisbee in the lawn, or who doesn't love a good potluck?
How did Consumers handle workplace status and care for employees during COVID-19?
Consumers was able to quickly pivot over 90 percent of its workforce to remote within two weeks when the pandemic first hit. The human resources team took the next couple weeks and reached out to every employee to check-in and make sure everyone had the resources they needed to be successful remotely.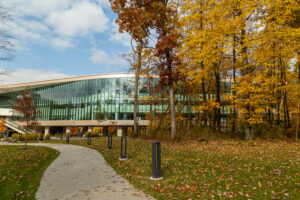 In June 2020, the credit union transitioned again with updates of the executive orders and began to re-open. The corporate headquarters started rotating employees back into the 90,000-square-foot office space with the requirement of a daily symptom checker survey and the requirement of masks while employees were up from their workstations. WebEx was still the meeting platform of choice, even when employees were in the building, and all shared spaces were reconfigured to enforce social distancing. The headquarters lobby remained closed until late summer.
Prior to June, limited retail locations were open by appointment only (all parties wearing face masks and following social distance and other safety protocols). In mid-June, retail offices slowly began to open with a number of safety precautions in place.
"We have been committed to helping our employees throughout COVID-19 by allowing flexible scheduling, remote work, and now safe reopening precautions," said Chief Human Resources Officer Shawn Premer. "Listening and responding to our employees' needs, including mental health and wellness, has been critical in maintaining the positive, servant-based culture Consumers is known and recognized for."
What is one workplace tradition or practice that Consumers is particularly proud of?
One workplace event that makes Consumers Credit Union unique is our annual all-employee Professional Development Day. In addition to robust in-house training and development programs and tuition reimbursement opportunities, we get everyone together once a year to develop professionally and personally. This fun-filled day takes place on President's Day every year when our offices are closed and includes multiple keynote speakers and a Health and Wellness Fair. This is just one of a few annual events that brings the entire team together for development and networking.