Building a Better Home for Your Family's Now and Future
AVB built its current office in 1991 during the development of the 620 acres that is the Woodbridge Hills community. Now, more than 30 years later, AVB continues to reside in the centrally located office that boasts the same fabulous views with a few recent adaptations to the space.
"We were producing beautiful work in our homes, but our Design Studio needed updating," said Katie, AVB sales and marketing director. "We wanted to create a space that really captured what the homes we were building were all about, while also making the process as easy, engaging, and inspirational for the clients as we could."
Featuring vast picture windows turning a Midwest wetland into a work of art and a sense of innovation in the air, the renovated AVB Offices and Design Studio physically represent the team's industry-leading expertise, company's core values, and ways they will work with you to "build something better."
"Building something better is building something long term and helping your clients achieve all their goals—ones they didn't even know existed sometimes," said new home consultant, Jennifer. "The biggest thing I think contributes to that is the thoughtfulness of the process."
With the limited amount of in-person work during the pandemic safety restrictions, the team at AVB used the time to re-envision its workspace. Sticking to its core values—Do the Right Thing, Be Client Focused, Have a Positive Attitude, Be Proud of What We Do, and Be a Team Player—the renovated offices are another tool in AVB's toolbox as they work with you to build your home.
"We treat every home as if it were our own—good enough is not good enough. We want to build it better, and we're constantly evolving and trying to be better," said Jack, AVB principal. "This space, the Design Studio is an example of that."
The Design Studio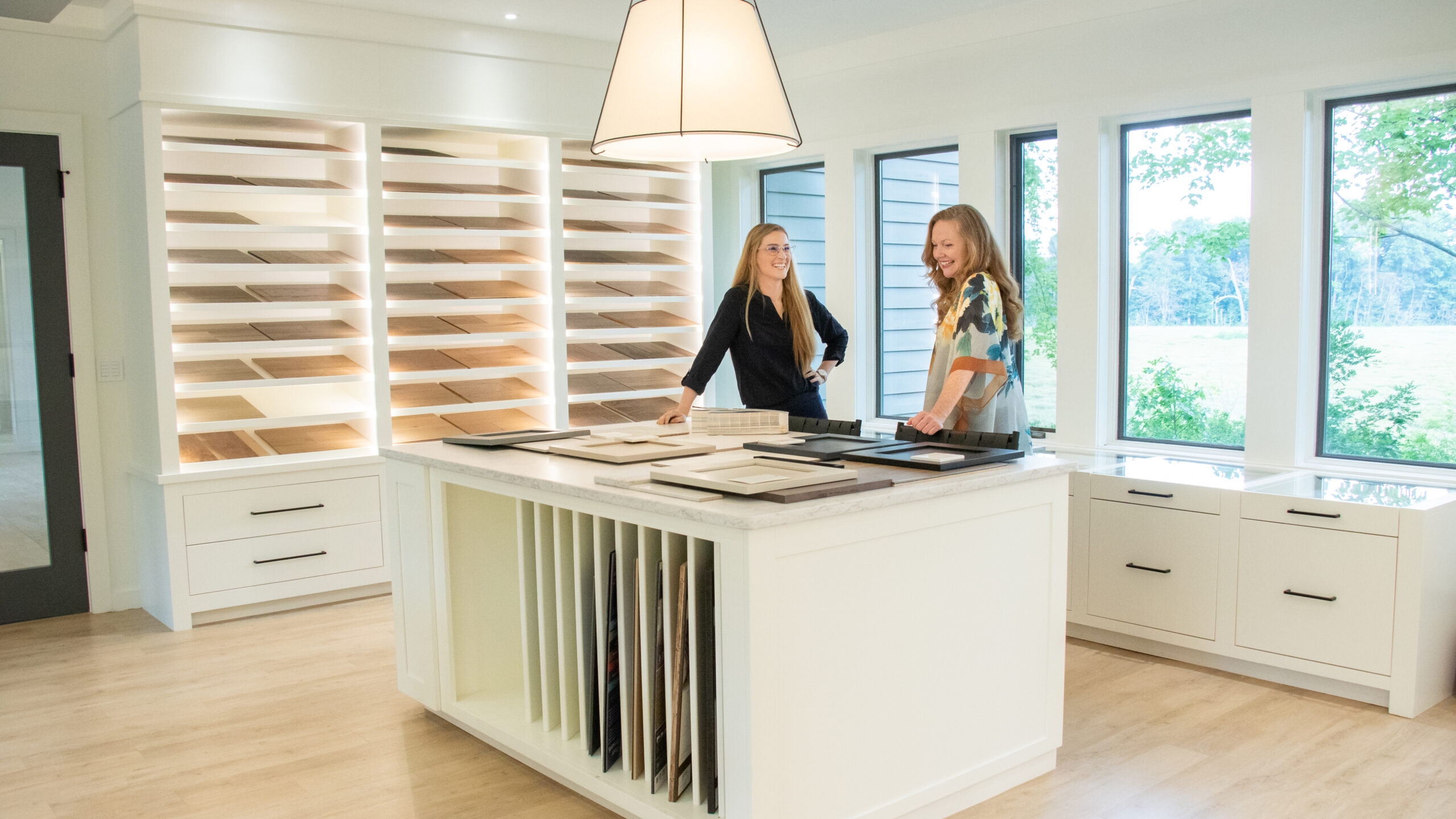 A key addition to AVB's new office space was the Design Studio. Large shelves display rows of tiles, cabinets, and accent options like artwork. A wall of kitchen and bath faucets allows clients to envision themselves washing dishes or preparing dinner.
"We started with the client and the process, and we've designed all the displays around making it as simple and fun as it can possibly be for them," said Katie. "Every choice that our clients have to make is categorized in here."
When a client begins the design process with AVB, they are provided a blank slate in the form of a large drawer. Throughout the process, a sample of each product chosen is added to their drawer to help the family see the full picture of their future home.
"It's an intimidating process for a lot of people to go through to think about color choices and material choices," said Jack. "In a lot of cases, our clients might build one home in their entire life and it might be their dream home. We want them to really enjoy the process."
Although doors, floors, and tiles may be what physically make up a home, AVB's process focuses on inspiring their clients to think beyond the products and consider how they will live day in, and day out.
"Clients will often have unconscious and therefore unexpressed expectations," said Jennifer. "By coming here and seeing everything in person together, it brings those expectations to light and allows us to meet those expectations."
The Process
Offering more than 40 years of experience with a portfolio of styles from traditional to modern, the team at AVB has helped families build quaint homes such as townhomes and condominiums or larger spaces and estates that can reach well over one-million-dollar investments.
"We are very focused on making sure that the client moves through the process in a way that is very organized and that meets their individual needs," explained Jennifer.
With "Be Client Focused" as one of AVB's core values, the team's dedication to supporting their clients throughout the building of their future homes entails a multi-step process to align client desires with needs and availability. Clients either receive updates or meet with their project manager weekly.
"Our goal is to educate our clients so they can make really good decisions," said Jack. "It's a very creative and evolutionary process."
Providing the best of custom home builders, the AVB building process often begins with portfolio plans and from there,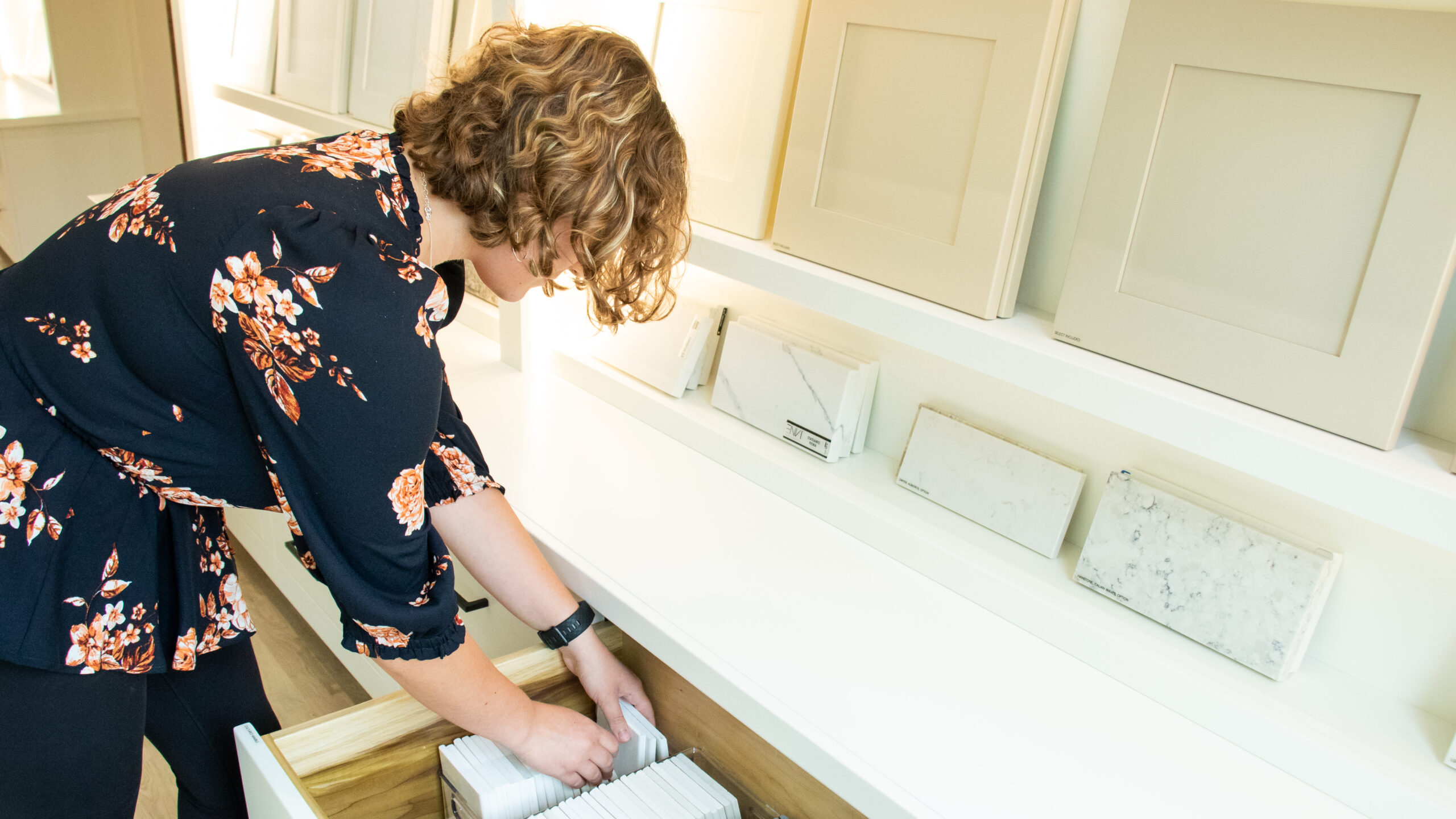 the sky's the limit. The team helps clients make decisions during the process on
everything from architectural features and floor planning, down to the placement of outlets to the way doors swing.
"Our process is so much more personal than most," said Katie. "We get to know our clients on a different and very personal level. We know their family makeup and what their needs are—it goes so far beyond any normal purchase."
"It's the details," added Jack. "When our clients move in to their home, 99.9 percent won't change anything, and if we have done our job correctly, that's really the way it should be."
While the AVB home consultants will never admit that their work is saving marriages, their dedication to client needs surpasses flooring or wall color preferences.
"We can improve people's daily lives through designing a home that's really intended for their needs and what they'd love their daily life to be," said Jennifer. "We get to know our clients to the point where I know whether the husband and wife get up at the same time every day. Those sorts of things that seem like such a tiny little detail, that's what makes their everyday life."
The Redefinition of Home
In the past two years, the pandemic and physical distancing safety measures have made homes the primary locale for every part of life. "Home means a lot more to us now after COVID. We spend so much more time at home, and our home has become a bigger part of our daily life," said Jennifer.
Dining tables became classrooms and offices while living rooms became the home gym and a prom dance floor. People have started to realize that they must cater their home to their own life, instead of adapting to the environment. "Houses are like fashion and cars—they are constantly evolving," said Jack.
"I think there was a short- and long-term effect. The change to the reality of what our homes meant to us occurred really quickly," Katie added. "But the long-term effect is people are just thinking about their homes in so much more detail."
While not everyone can relate to the transition of their elderly relative moving in with them, or becoming the hall monitor to make sure their kids are in class, the possibility of those realities have made families think differently.
"I think what it's brought to mind for a lot of people is that things could change. In a heartbeat, everything could change," said Jennifer. "So, how do we make the spaces in our home more flexible?"
While open concept may have been all the rage pre-pandemic, post-pandemic homes need storage. Everything from school art supplies to a few too many rolls of toilet paper that need a secret place to hide. And every part of the home will require flexibility to the ever-evolving needs of a family.
"We actually started tracking the moment that the run on toilet paper happened—people were making pantries bigger. They were talking about storing bulk products in their basements," said Katie. "There are so many moments in a house that can be adaptive–opportunities to make little spaces like closets transition from a storage area into a study nook."
Providing flexibility of space in homes to serve as a classroom, restaurant, and stage has become a big ask for many family's current living stations. "Those combinations of things are putting more pressure on homes," said Jack. Although your current situation may "work" for now, AVB encourages its clients to think beyond adapting as they help to make homes a place for families to thrive.
A Home Made for Your Future
The high rate of home resale costs combined with the expense and unpredictability of renovation has surged the new home development market with clients. People are no longer willing to live, work, and play in spaces that cannot support all the needs of a family.
"If you buy an existing home, you adjust your lifestyle to that space. If you build a home, you make the space work for your lifestyle," said Jack. "If you're in that space 12 to 16 hours a day, it really makes a difference on the quality of your life."
A key focus of the AVB process is to build a space for the future needs of a family. A past custom home built by AVB incorporated the foundation and electrical to transform three stacked walk-in closets that could be updated, if needed, into an elevator for a family member that may physically require one in their home.
"Maybe there's not a need today, but there's an anticipation of a need," said Jack. "People don't want to build a home that looks and feels like it's accessible, but you can do so and plan for it in the future in a way that looks and feels great."
Whether the team is thinking of ways to support future accessibility needs or considering the basics of a growing family, AVB's home consultants encourage all their clients to consider what their life will look like in the years to come. "It is something that everyone should think about at every stage of their life," said Katie. "The things that are easy for people who are aging are also easier for our little people—a toddler can fall and hurt themselves just like an 85-year-old can."
While the client's physical home is of utmost priority when AVB builds, the team also focuses on creating spaces to develop a social fabric for their communities. In AVB-built neighborhoods, there are places for neighbors to gather like soccer fields or pickleball courts.
"We call it the psychological income," said Jack. "When you drive through a neighborhood in the morning and the parents are standing around having coffee while the kids get on the bus, you see those friendships that have developed in a community you built which is pretty cool."
AVB also focuses on ways to preserve existing nature. In fact, a portion of nature in every community is always prioritized for preservation.
"We pick sites that are unique that offer topography, vegetation, wetlands, and things of that nature that people want to be a part of," said Jack. "We preserve as much as we can, and then we also recreate nature in areas."
In one of the developments, AVB re-naturalized the Portage creek bed that was straightened by the army corps of engineers decades ago. While the project was a $250,000 investment for AVB, the priority was not the dollars spent.
"It wasn't a financial decision— we knew once we built those condominiums, nobody would ever access that creek bed again with the equipment needed to re-naturalize it. We did this work without any requirements to do so."
Redefining a Satisfied Client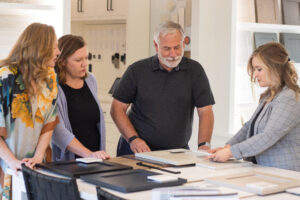 Craig and Mandi built their family's home with AVB a few years ago in one of AVB's condominium communities. The family enjoyed the process so much, they're back to do it all again.
"I said, 'no, no, no.' Then the right opportunity came along, and I said, 'Okay, let's do it,'" explained Craig. "I don't know if we would've been able to without AVB."
When Mandi reached out to AVB home consultant Jennifer to begin the process again, Jennifer said she "was so excited because we had worked together the first time they built. It's not just a team of people we work with. We've developed relationships with these two in particular—they have become friends."
Although Craig, Mandi, and the AVB team were laughing throughout their meeting, the sense of trust in the room seemed to be what made the process so fun and easy. "It's Midwest values: your word, your handshake. It's still important to people here," said Jack.
As experienced developers of both homes and relationships, the team at AVB understands a solid foundation is essential to long-term success. Jennifer explained that the AVB team understands how important it is "to build a better relationship as the foundation to support the whole process."