No doubt you have been following many of the stories about recent cyberattacks affecting everything from oil to food supplies, and countless industries across sectors. Companies see the need to protect data and overall business operations and are advertising positions for cybersecurity professionals in excess of current available graduates. In addition, companies are looking to accelerate the careers of those who are gaining these valuable skills.
Western Michigan University (WMU) now offers an online cybersecurity master's program that can benefit you in your future career path. Here's what you can expect:
A fully online degree that is flexible, yet with meaningful interaction amongst master's students and faculty.
Online learning at its finest with content and course design from experts in both cybersecurity and online course development.
Career advancement and compensation that matches your skills, with promotions and compensation upwards of $100,000.
The ability to play a key role at a company safeguarding all areas of the business, securing your own future through your knowledge base, and the critical nature of your position.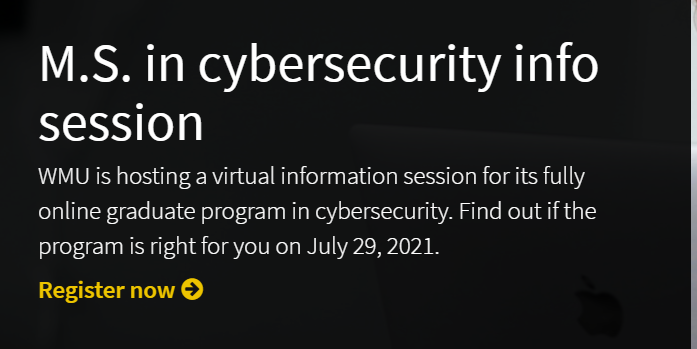 WMU Haworth will host a virtual information session for those interested in the M.S. in cybersecurity program on July 29 at noon. Register now to reserve your spot.
With 50% of cyberattacks affecting large organizations and 50% affecting small businesses, opportunities are limitless with an M.S. from WMU.
Reach out to program administrators with any questions at wmu-cybersecurity@wmich.edu or explore our website for more information.