The Product Design Program at the Western Michigan University (WMU) Richmond Institute for Design and Innovation (RIDI) is taking innovation to a whole new level with its unique, interdisciplinary program preparing graduates to lead in the field of industrial design. Graduating from the program this spring, Madison Dempster is interested in the soft goods industry but would love to make an employment connection with any company that will help her improve her skills in design. Madison has thrived during her time in the Product Design Program thanks to the connections that she has made with professionals in the community, and continues to be coachable, allowing her to grow her skills and expertise. Learn more about Madison by reading her bio below and exploring her portfolio.
What is the best lesson you learned from RIDI, an internship, an instructor, or a mentor?
The best lesson that I have learned from all of the above is to work hard and, with that hard work, you can do right by your connections. Making valuable connections has been a part of this major since our freshman year. The very first MIX* event we were a part of, we were thrown into an amazing pool of designers and professionals who treated us like the designers we were striving to be. They offered their personal help and wisdom wherever we needed it. All of the connections that have helped me and formed me into the designer I am today have also unknowingly pushed me to represent their time and support properly. Not only do I want to be able to reach out to them, but I also want them to be proud to be a possible reference for me. Having my hard work and determination shine through my resume and portfolio will express my gratitude for their expertise and guidance.
What is the strongest skill you bring to an employer?
The strongest skill I will bring to an employer is being coachable. This term may be popular in sports, but my sports life has made me into the person I am today. Coachability is being able to perform, be critiqued, and to perform better according to those critiques without protest. This was an important skill on the court, track, field, or in the pool, when quick turnaround for improvement was needed. The same goes for design—not taking the requests personally but understanding that they will produce a better outcome. Being a good listener goes hand in hand with coachability because you can't improve without listening to what you have to improve on. Coachability is a skill I pride myself on because I am always learning and, if someone can teach me a better way or a correct way to do something, I will be a better designer because of it.
What type of project or industry interests you?
The industry that interests me is the soft goods industry. I have always been eager to design things I could potentially wear or test out. It is exciting to think one day I could see something I designed being worn by another person I don't know. Also keeping in mind that I am a student and any industry will better my skills in design. I am thrilled to be able to work at any company, and I will make valuable input to any project I am a part of.
What project in your portfolio are you most proud of?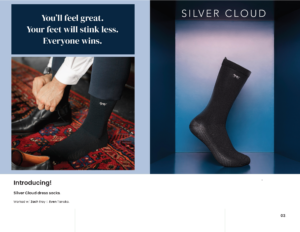 The project in my portfolio I am most proud of is my internship sock project. This was the first project I was a part of during my internship at Wolf & Shepherd in the summer of 2019. I was able to work on and see this project develop from start to finish. Starting off with ideation and the preliminary sketches of what the sock would look like. Brainstorming on concepts with my manager and doing field research about existing socks on the market. Figuring out the CMF of the socks and what colors would go with their black shoes versus their brown shoes. Searching fabric books with our fabric distributor. Rendering out socks and presenting them to our team. Finally, based on the critiques, we picked the best sock design and moved forward with the final render. After my internship, these socks were developed and are now on the market. I am proud to see my input on the sock design being taken and added to the final product.
What/who is one person, place, or experience that had a positive impact on you during your time at Western Michigan University or in the Kalamazoo community?
This is probably the hardest question to answer because there are so many people that have left a positive impact on me. One in particular comes to mind from my time at WMU and living in Kalamazoo, and that's Newell Brands and the connections I made there. Starting sophomore year, we had two outstanding designers from Newell come in to teach us. Given this was the first time for many of us sketching like an industrial designer, we had some struggles, but they stuck to it and helped every single one of us. Towards the end of the semester with those designers, I felt like I was falling behind most of my class with the new perspective sketching. Since connections were taught to be a vital part of design, I reached out to one of the designers to see if I could get extra help with sketching. Matt Dean became my teacher, mentor, and I really have to thank him for everything he taught me because I wouldn't be here without him. We sat down during many lunches in Newell's headquarters (NDA signed and everything) to sketch. I became more confident as both a designer and as a person. Thank you so much Matt. Newell was also very prominent at MIX events, and this is where I met Ryan Bradley. Ryan and I always spoke during MIX events and on my occasional visits to Newell but, during those short chats, I became a better designer. Whether we talked about current projects or issues I was having in a design phase, the understanding he portrayed and wisdom he gave was something I valued every time we chatted. Thank you, Ryan. Our junior year in the major, we had the privilege to be a mentee to design professionals. Being a woman in design, I was lucky enough to be mentored by a woman. Savannah Walters was absolutely the best, and I don't know where to start. Our meetings together were so informative and something I could always look forward to. She pushed my limits and made me realize my potential. She was right by my side through my second internship start to finish, and I can't thank her enough. The skills I learned through her expertise have molded me into the person and designer I am, and I will always attribute my success with her being my mentor. Matt, Ryan, and Savannah have left such a big positive impact on me and I can't wait to show them that their influence on me shines through everything I do and accomplish.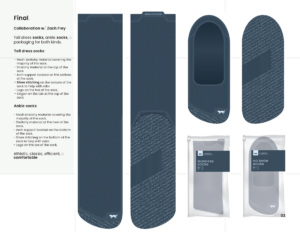 Madison's Contact Information
Special Note: Powered by Southwest Michigan First, MIX events, seminars and workshops harness Southwest Michigan's power of creativity and invite participants to express and share their individual specialties. MIX brings together local creators and innovators to inspire, education and expose area creatives to the great ideas, people and companies that call Southwest Michigan home.