Michigan was recognized as a top state in sustainable development practices by Site Selection magazine, announced Governor Gretchen Whitmer in a press released. This recognition affirms Michigan's commitment to green energy practices and social responsibility while continuing to be a state where businesses can succeed and grow.
"We are building on our legacy of leadership in business growth and development by adopting innovative initiatives to ensure Michigan's industries are sustainable," said Governor Whitmer. "Our incredible natural resources are the foundation of our Pure Michigan way of life and this recognition as a top 3 spot in Site Selection's Sustainability Rankings reaffirms that tradition remains a priority as we create jobs and jumpstart our economy."
For the East North Central regional rankings this year, Michigan ranked second, ahead of peer states including Ohio, Wisconsin, and Indiana.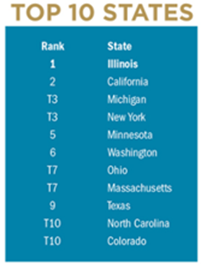 In addition to Michigan's overall top-three ranking and competitive spot within the regional rankings, the Kalamazoo-Portage metro area was recognized as ninth out of the list of top 10 metro areas in the East North Central region. With four other metro areas ranking in second, third, and seventh, Michigan has the most metro areas claiming top ten spots compared to other states in the region.
Site Selection's rankings blend standard green metrics such as LEED-certified buildings, renewable energy use, and green building incentives with unique inputs such as areas' corporate social responsibility profiles, brownfield redevelopment, corporate facility investments in sectors with green connections, and commercial real estate environmental among other data points.
Just last week, Governor Whitmer joined the Michigan Economic Development Corporation in announcing brownfield, as well as a Michigan Community Revitalization Program performance-based grant, support for Whirlpool Corporation's new Technical Center on a brownfield site in St. Joseph. The innovative project also includes a multi-family development with 80 apartments in Benton Harbor that, combined with the Technical Center will generate positive business impacts, including the ability to attract and retain needed talent while offering housing options.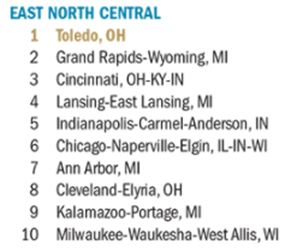 "It is exciting to see Michigan continue to rise in Site Selection's Sustainability Rankings as we work to attract and grow businesses that not only create jobs but demonstrate a commitment to sustainable practices," said Josh Hundt, Chief Business Development Officer and Executive Vice President of the MEDC. "At the very core of who we are, Michigan brings together the know-how and experience in our businesses, communities, and workforce that will drive long-term sustainability."
This summer, the Michigan Department of Environment, Great Lakes, and Energy will award $15.6M in brownfield grants and loans to 21 projects for the redevelopment of contaminated properties. This funding directly supports a vibrant economy while protecting the environment. More than half of EGLE's budget each year flows into Michigan communities through grants, loans, and other spending that supports local projects, protects public health and the environment, and creates economic growth and jobs for Michigan workers.
When brownfields–vacant or abandoned properties with known or suspected contamination–are redeveloped, property values increase both on the revitalized site and on other nearby properties.
Earlier this month, Michigan was recognized as a top state for new manufacturing jobs and investment by Area Development, being awarded the 2021 Manufacturing Gold Shovel Award on the strength of 2,619 new jobs and $441.8 million in private investment. That momentum has continued throughout the month with Governor Whitmer attending groundbreakings for Speedrack Products in Walker and TechSmith's new international headquarters in East Lansing and announcing 350 new manufacturing and logistics jobs in the state as a result of support approved this month by the Michigan Strategic Fund.