FIRST & 42 has curated a list of ideas for you to find locally made gifts for the most wonderful time of the year with features of local Merry Makers. Giving the gift of local means more, because not only will you find quality items that are meaningful to others, but yule get to support small businesses that are the backbone of our economy. Don't be elfish—spread the holiday cheer with others and check out these great makers from around Southwest Michigan. Explore these categories: sensational goodies; goods crafted from steel, clay, and wood; sustainable home products; stylish apparel; sweet & salty: pops & popcorn; scents & succulents; steaming coffee; satisfying beverages; savory foods, sweet treats; and self-care.
SENSATIONAL GOODIES 
Huey D's Goodies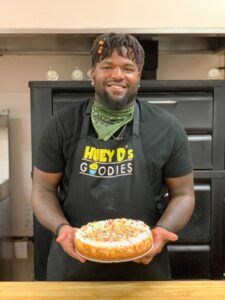 Named after his son Houston DeAndre White, Huey D's Goodies was founded by Demargeo White, a personal chef born and raised right here in Kalamazoo. With over 12 years of experience in the culinary industry, Demargeo has created just about everything but now specializes in "goodies," mainly cheesecakes. The lineup of cheesecake flavors includes unique flavors like fruity pebbles, peach cobbler, banana pudding, apple crisp, and chocolate peanut butter. "For a first-time customer, I would definitely recommend the strawberry or the turtle cheesecake," said Demargeo. The three original flavors that he started with included the strawberry and turtle cheesecakes in addition to his cookies n cream cheesecake. For the holidays, he released new flavors butter pecan, pumpkin, and heavenly chocolate chip, which is topped with chocolate ganache, chocolate chips, crushed vanilla wafers, and toasted walnuts. He is also offering variety cheesecakes, with up to four flavors to choose from in one whole cheesecake. Keep up with all the offerings and where to buy on his Facebook page, where you can also find a link to download Huey D's mobile app.
"With the support of the community, it helps businesses grow. A lot of small businesses need that, especially during this time. You're pretty much helping that business stay afloat, probably even get to the next level with each purchase." Demargeo told us about his goal for growing his business which is to be able to get a storefront and hire employees. "To take them under my wing and teach them everything that I've learned along the way and give them an opportunity to grow as individuals and workers to build work ethic—that's my goal personally. With the support of the community, that could eventually happen sooner." You can help his dreams take off by purchasing goodies for your friends and family this season.
Gluten Free Sensations 
Loretta Hamlin, owner of Gluten Free Sensations in Three Rivers, started the journey of opening her fully gluten-free bakery and store not by accident, but out of necessity. After a hard journey of discovering that her first daughter had Celiac Disease, she was left with very few options to feed her, inspiring Loretta to make sure that no other mothers had to go through this experience. "17 years ago, none of this existed. There were not gluten-free products available," said Loretta. "We walked through the store, and I remember just crying because everything I picked up we couldn't eat." She continued, "I knew in that moment as I was walking back to my cart that no one should ever have to go through what I just went through. It's just not necessary."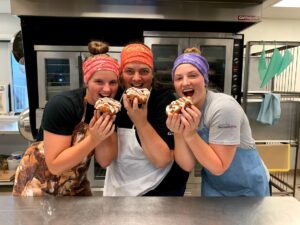 Owning the bakery for 13 years, Loretta has gotten pretty good at creating delicious goodies that are completely gluten-free. She said most customers can't even tell the products don't contain gluten. The most popular item by far are her cinnamon rolls, she told us. "Oh my gosh. Cinnamon rolls! Cinnamon rolls and more cinnamon rolls! It's our signature item, and we ship them all over the United States. We've now hit all 50 states," said Loretta. "We also do pies and pie crusts, and we've got stuffing and all sorts of holiday needs—whatever you need. We've got gravies, sauces, and cream soups, too, but the cinnamon rolls are the biggie." You can find all of these products and others like gluten-free granola and flour at the Three Rivers location or online. On the importance of supporting local businesses this year, Loretta said, "It's so important with what's gone on this year and the businesses that are closing. We're still here, which is such a blessing, but if you want small businesses to still be here next year, they have to be supported. It's easy to want something after it's gone, but then it's too late."
Ope's Cookies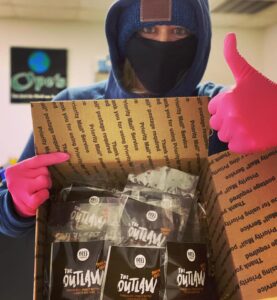 Lauren Oppenlander started Ope's Cookies 20 years ago when she recognized a need for good, wholesome foods in the community. "I wanted to have healthy, plant-based, gluten-free options for everyone, but especially college students, as foods were terrible 20 years ago for anyone with allergies, sensitivities, or a type of lifestyle diet," said Lauren, owner of the southwest Michigan cookie empire that sells online and also supplies wholesale to colleges, schools, hospitals, and stores around the region. Ope's Cookies creates cookies that are both tasty and healthy, with ingredients that nourish and flavor combinations that are irresistible. A few of Ope's most popular cookies are "The Outlaw," a gluten-free option with chocolate, chocolate chips, and peanut butter; "Yogi Bear," with cranberries and white chocolate chips; and "The Backpacker," with berries, nuts, and chocolate chips.
Experiencing major impacts from the pandemic, Lauren encourages people to support local businesses like hers this year, putting it simply: "online shopping would help local businesses stay in business." You can buy Ope's Cookies online to be delivered right to your doorstep, or you could even sign someone up for a "Cookie Drop"—a monthly subscription to receive your favorite variety of cookies. Ope's Cookies can be enjoyed for breakfast, dessert, snack, or really any meal, which is why they would make a great stocking stuffer or gift to a neighbor or friend. Indulge in the over 15 different flavors!
Specialty Cheesecake and Dessert Company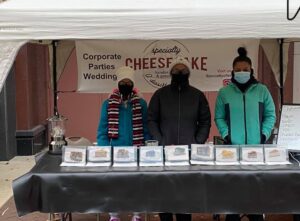 For mouthwatering cheesecakes, check out Specialty Cheesecake and Dessert Company, a Kalamazoo staple that has been around for almost five years. Typically found at local farmers markets, festivals, and events, the mighty dessert machine also takes orders online at any time that can be arranged for pickup from its commercial kitchen. Just check out its Facebook page for more details. Delicious cheesecake flavors include brownie bottom, caramel apple, cinnamon roll, cookies N cream, peanut butter, turtle, and so many more. You can buy cheesecakes whole, by the slice, in mini cheesecake form, or even in jars. All cheesecakes are handmade in Kalamazoo in Specialty Cheesecake's commercial kitchen. Slice into this deliciousness and snag a cheesecake for a friend (and maybe yourself while you're at it). Richard Moncrief, the proprietor of Specialty Cheesecake and Dessert Company, emphasized the importance of shopping locally this year saying, "When you shop local, you help the community by patronizing the family, but also keeping dollars in the community."
GOODS CRAFTED FROM STEEL, CLAY, AND WOOD
Grayling Ceramics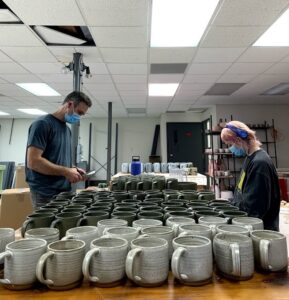 Shay and Maura Church, co-owners of Grayling Ceramics, combined their passions and experiences to start their artisan-crafted ceramics business in 2014. "Maura's background is in running restaurants. She's run a couple of restaurants in Philadelphia and then helped out here in Kalamazoo. My background is in ceramics. I've taught ceramics for years, and then had my own practice. And so, it's basically our two backgrounds coming together," said Shay. Each of Grayling's products is meticulously made by hand in Kalamazoo, and the lineup includes dinner plates, coffee mugs, vases, growlers, pitchers, and more. Not only are the goods aesthetically beautiful, durable, dishwasher, and microwave safe, every purchase supports your neighbors here in Kalamazoo.
For holiday giving, Shay jokingly suggested, "Well, buy as much ceramics as you possibly can." He continued, "It's different for everybody. Some people want sets of plates or a set of bowls, but the go-to for pretty much everyone is a coffee mug, so that's about as easy as it gets. You can't go wrong with a coffee mug! We also love our pitchers, and vases make great gifts, too." Grayling Ceramics will be opening a new showroom and retail space in December, but you can also find all of its products online. Shay encouraged people to shop locally this season, saying, "There are such great artisans in Kalamazoo," and with shopping locally you can find amazing products that are one-of-a-kind.
JoshB Woodworking
Josh Bridges, owner and craftsman of JoshB Woodworking, started his business by chance. "I'm a teacher, and when I first started, I was an industrial arts teacher and taught shop and woodworking. My students would make cutting boards, and one semester I did a cutting board with them as they did it. I gave it to my wife, and she took it to work at Bronson and had a dozen orders that day. So, it just kind of started from there," said Josh. Since 2014, Josh has been growing the woodworking business and his products can be found online, at Food Dance, at Brookside Farms in Paw Paw, and at Outpouring Café in Paw Paw.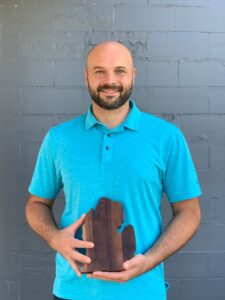 Josh produces a whole line of Michigan-shaped items, including cutting boards, coasters, Adirondack chairs, and more. For the holidays, he also creates items like ornaments and nativity sets, which he says are the most popular around this time of year. "I also have a 'drink local' wall hanging sign that is also a bottle opener, and those are good for beer drinkers," he said. JoshB Woodworking can also customize most products which Josh says makes a perfect gift for employees or clients for the holidays. "I've got a couple of realtors that are doing cutting boards as closing gifts, so I'm creating those for them. It's always something different." The possibilities are endless, which is why you should check out all that Josh has to offer and fill up your sleigh with local products like his.
Midwest Opener Co.
Midwest Opener Co. specializes in stainless steel bottle openers and also designs and produces other functional art pieces. Made right in Kalamazoo, the bottle openers come in all shapes, sizes, and colors. From states and country shapes, to animals and fruits, to skylines and plants, there's sure to be the perfect bottle opener or keychain for anyone you're shopping for. Midwest Opener Co. also regularly creates custom designs, whether it's for a company gift, wedding favor, or you just want to add your unique flavor to any of its existing designs. You can find all of the products online and purchase them on the Midwest Opener Co. Etsy shop. Crack open a cold one and search away for the perfect gift.
SUSTAINABLE HOME PRODUCTS
Bee Joyful Shop
Bee Joyful Shop is a zero-waste market with a new storefront in downtown Kalamazoo that offers alternatives to single-use plastics. "We started this because of the plastic waste my family was going through, and I wanted to create something that was going to be helpful for my children and myself," said Jessica Thompson, owner of Bee Joyful. "I was a single mom with five kids at home, and I couldn't afford any of the fancy stuff, so we started making the food wraps. Over the course of three and a half years, it has evolved into an actual zero waste shop." Bee Joyful produces reusable food wraps made from beeswax and cloth and also sells products like on-the-go dining sets, reusable straws, soaps, and much more.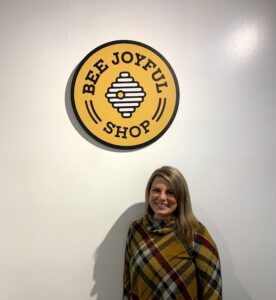 For holiday gifting, Jessica said, "The food wraps are always a hit. It's a great thing—anybody from a toddler to a grandma can use those—they're very simple to use. The market bags are also definitely a huge hit. Everybody loves the colors and the versatility." Bee Joyful will also have grab bags and bundles available for people to pick up sets that will be curated for different household purposes or hobbies at a lower price point, making it the perfect gift if you don't know where to start. You can find Bee Joyful products online or shop at the market downtown Kalamazoo. Jessica also urged people to shop local this year, saying "Your neighbors, your friends, your family, those who are trying to support your community and provide a service and fulfill a dream—those are the ones who need the support right now."
TheGreenGloveDryer
TheEcoDryer® from TheGreenGloveDryer is a product you didn't know you needed, but yet you wish you had. It is a non-electric glove, mitten, boot, shoe, hat, reusable bag, water bottle, and wet garment dryer for use with your home, school, or office heating/air system. Produced locally by a family-owned team who needed the dryer to handle all of their kids' winter apparel, the brilliant invention is perfect for any household during a Michigan winter. TheEcoDryer® is placed over a floor register or against a baseboard register, which allows heat and air to circulate throughout and to the top of the garment, drying from the inside out. Even better, TheEcoDryer® eliminates odor and bacteria by thoroughly drying items. You can purchase TheEcoDryer® online.
OCD – Olson Cleans & Disinfects
OCD Products, or Olson Cleans & Disinfects, prides itself in providing truly all-natural products made with ingredients that are free of dyes, harsh chemicals, surfactants, and artificial fragrances. This local maker produces a comprehensive line of all-natural products for all cleaning needs, including an all-purpose cleaner, preserve and polish cleaner, and hand sanitizer. The all-purpose cleaner is truly all purpose: according to OCD it is great for cleaning the windshield of your car to the sponges in your kitchen. You can find OCD products online and keep up with all of their updates on their Facebook page.
STYLISH APPAREL
Kamili Activewear
Kamili Activewear is a clothing company established in Kalamazoo that has a primary objective to provide customers with the utmost quality and comfort in activewear. Its mission is "to promote rich health through living actively." Carl McAllister, a full-time application engineer, project manager, and CEO, founded the company with his intense passion for health, wellness, and fitness. Helping the community is also one of Carl's passions, as each Kamili Activewear purchase helps create jobs for individuals through the Goodwill Southwest Michigan product fulfillment center. Whether you're a fan of exercising or lounging, Kamili products will exceed your expectations for performance, style, comfort, and durability.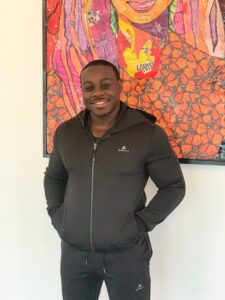 For gift-giving, Carl recommends the joggers, which he says are more relaxed fitting and extremely comfortable. "Being that we're on a quarantine essentially right now, I think people are going more so for extreme comfort," he said, laughing. Launching soon, Kamili is working on a prototype for a mask integrated with a shirt. "I'm refining the sizing and the different details to make sure everyone is comfortable and safe," said Carl. "We'll also be including this design for kids, so when they return to school, you won't have to worry about them losing their mask or sharing their mask or trading their mask." Carl urged people to shop locally, saying, "We need to encompass the comradery of the community and try to help all [local businesses] stay in business and continue to progress with everything going on right now." Stay in style by supporting our community: Find and purchase Kamili products online.
Kalamagonia
Founded by Kalamazoo native Michael Beyene, Kalamagonia produces graphic tees, bags, stickers, and more adorned with all the love for Kalamazoo. "I've always wanted to help people show their pride in and love for Kalamazoo and to make something fun, make something contemporary, and make something that is Kalamazoo for people to have that reaction and feel really good," said Michael. "I really hope to continue to create things that make people feel good and help people show pride in what they love."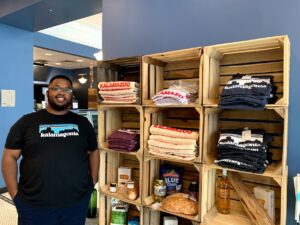 If you know someone who loves Kalamazoo, for the holidays Michael suggests giving Kalamazoo market bags. "It's a nice, hefty shopping bag, especially for going to the farmers market every Saturday morning, and that bag will definitely help carry your haul and represent that pride that you have for Kalamazoo," said Michael. He also highly suggests the "Thank You, Come Again" T-shirt, which he says is one of his favorite tees to lounge around in or to go shopping in. "Not only is it just screaming Kalamazoo, but like all of my T-shirts, it is just extremely soft and extremely comfortable," Michael added. You can find Kalamagonia gear online, downtown at Rio in the Radisson Hotel, or at Market on Michigan Avenue. "I'm all about supporting local. I'm all about giving local. My community is literally helping me and pouring into me, and through Kalamagonia, I have given back," said Michael on the importance of supporting local makers. "These places have literally poured into me, and it only makes sense to give right back to the community. It just makes sense. It's my community, and I just want to keep that dollar cycling with us here in Kalamazoo."
SWEET & SALTY: POPS & POPCORN
Great Scott Ice Cream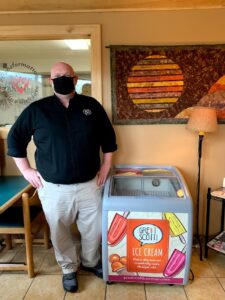 Great Scott Ice Cream, an artisan ice cream, fruit bar, and ice pop maker, takes pride in its natural sourced ingredients that are "creatively made and Michigan cold." Ken Harshman, founder and head smile maker at Great Scott, has been handcrafting pops and ice cream since 2014, and since then been spreading joy through these frozen novelties throughout southwest Michigan. Pints of ice cream as well as the signature ice pops can be found online or at Confections with Convictions. Great Scott is also looking for suggestions for retail locations. "If someone has a business they would like to see us in, or if someone has a favorite spot they go to that they'd like to be able to purchase our products in, let us know," said Ken.
Exciting holiday ice pop flavors like eggnog, cranberry vanilla, and for New Year's, a strawberry champagne are being released as well as pints of ice cream that will be available in flavors like Uncle Scott's vanilla, candy cane, and Mexican hot chocolate. Other popular flavors include an orange and cream, brownie bite, and balsamic strawberry and black pepper. "We make our own vanilla extract and that's why those stand out so much. That's the base of our vanilla ice cream. It's also part of what makes that orange and cream so good," said Ken. He encouraged people to shop local by saying, "You can shop high quality products for a reasonable price and help your neighbors." Kevin Crail, president of Great Scott, added about shopping local: "You know that somebody is putting their love into the product. If you care not only about your community and your neighbors, as well as what you're spending your money on, there's no debate that when you can buy local, you should."
Taste of Heaven
Brimming with all kinds of treats, Taste of Heaven is not only delicious, but supports a great cause with its financial support for Youth for Christ and impact upon the lives of many in our community by providing job readiness skills. Gift baskets and boxes of its specialty popcorns, chocolate-dipped pretzels, and caramel krispies make perfect gifts for anyone. You can find popcorn in flavors like Michigan cherry chocolate drizzled caramel corn, peanut butter overload, and cheddar cheese corn, to name a few. You can buy products online, at its Portage location, or at the Harding's on West Main.
Pop City Popcorn
At Pop City Popcorn, you can find exotic flavors like dill pickle, bacon cheddar, and buffalo wing. If you're trying to find a gift to play it safe, they also pop sweet mixes fresh daily like butter rum, the Bronco Mix (black cherry, vanilla bean, and caramel), the Kalamazoo Mall mix (caramel corn and cheddar), and the signature chocolate peanut butter. Pop in to their location on the Kalamazoo Mall to see for yourself, or call the store at 269.382.5770 to learn more about special flavors and shipping options.
SCENTS & SUCCULENTS
Kalamazoo Candle Company
Adam McFarlin, founder, owner, and CEO of Kalamazoo Candle Company, started candle-making as a "happy accident," stumbling upon the art form in search of a way to fuel his entrepreneur spirit. "I kind of always had this entrepreneurial spark," said Adam. In no time, Adam had discovered that he was fascinated by candle-making and he was actually really great at it. Today, Kalamazoo Candle Company candles can be found in 35 states and sells candles all over the world. "It's a happy accident, never intended, but after a few months of doing candles, I was like, 'This is my thing.'" If you've ever smelled the scents, you can confirm that candle-making is, in fact, Adam's "thing."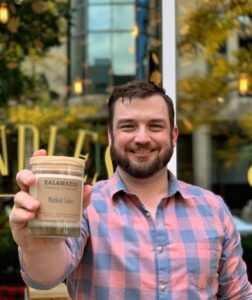 For gifting, Adam offered this advice: "you can't go wrong with Smitten. It's our most popular fragrance throughout the entire year. I would also always recommend Obsidian. Obsidian is by far the most appealing to men and women alike." Seasonal favorites include Balsam and Cedar, Sugared Spruce, Spiced Gingerbread, and Cranberry Bellini. Kalamazoo Candle Company also has DIY Candle Making Kits available that are perfect for someone who loves to tinker like an elf. You can find these candles and accessories in its retail shop downtown Kalamazoo or shop online. For this holiday season, Adam said "I'm really excited about seeing all of the familiar faces starting to come back downtown. Downtown Kalamazoo was shut down for a long time and we've got really great new retail stores down here. There are eight stores that opened in 2020 in downtown Kalamazoo. How wild is that?" Your support of local businesses will have an incredible impact this year and, as Adam put it, "People should shop local because we're neighbors."
Wicked Pop Candle Co.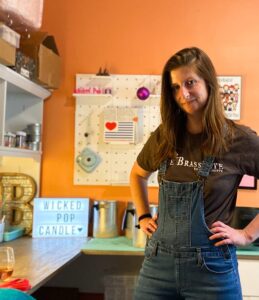 Wicked Pop Candle Co. hand pours all of its fun and festive candles in Niles. Owner Kristin Bivens takes pride in crafting candles that are "Soy Based, Pop Culture Infused, and Female Powered." The quirky candle collection has fun labels with quotes and references to favorite movies, shows, and pop culture which are hilariously charming. In its holiday collection, you'll find labels with quotes including "Sun of a Nutcracker," "Merry Christmas Ya Filthy Animal," and "We Forgot Kevin!" Can you name these references? If you've got someone in your life obsessed with Christmas movies, this is the perfect gift to wow them with.
Little Shop of Plants
For that someone with a green thumb, brighten up their holiday with a gift that will last from the Little Shop of Plants in downtown Kalamazoo. A grow-to spot for plants and planters of all kinds, the shop was opened this year by Megan Gesler, a student at Western Michigan University. Megan opened the shop after moving to Kalamazoo and discovering it was hard to find the unique plants she wanted locally. The shop has all kinds of varieties, including cacti, house plants, air plants, succulents, and more. You can buy the plants online which are now only available for curbside pickup at its downtown Kalamazoo location.
STEAMING COFFEE TO FILL YOUR MUGS
Factory Coffee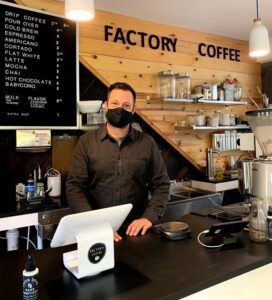 Dan Kastner, co-owner of Factory Coffee, and his wife Emily fell in love with good coffee and they're sharing their passion with the rest of the Kalamazoo community. Starting out with a simple coffee bar, Factory Coffee now has two locations, is bottling cold brew, and selling wholesale coffee. The coffee is ethically sourced and roasted right here in Kalamazoo with a zero-emissions roaster, reducing the carbon footprint of every pound of coffee by 90 percent. A perfect gift for the coffee lover in your life would be a coffee box, which includes three bags of whole bean coffee. If you're looking to go above and beyond, you could even set someone up with a coffee club subscription to have coffee delivered to their door for as long as you choose.
"We're blessed to be in this bubble of creative workspaces. There are so many cool products being made in Kalamazoo," Dan said. He celebrated buying local products, describing the uniqueness of small batch handmade items, saying, "This interesting thing has a history and a story. It's unique [to Kalamazoo] in the grand scheme of things."
Coffee Rescue
Coffee Rescue will help the good times roll this holiday season with its food truck business that can be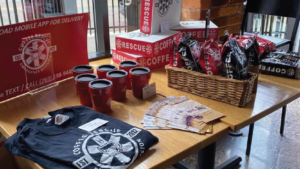 found around the region at local events. As outdoor events begin to slow down, Owner Jamie Brock has begun bagging and selling her personally roasted coffee beans online. Coffee Rescue has a holiday gift box available called the "First Aid Kit," catering to its rescue theme, as well as dark and light roasts in 12-ounce bags. If you're in need of a jolt of caffeine, a nice way to recognize your employees' hard work, or a fun holiday present, Coffee Rescue is here to the rescue.
Kalamazoo Coffee Company
With a passion for coffee and tea, Kalamazoo Coffee Company roasts its coffee in small batches right in Downtown Kalamazoo. The Kalamazoo Coffee Company prides itself on taking the time to learn about the distinct characteristics of each coffee variety, roasting with intent to bring out the coffee's unique and pleasing characteristics. Unique and bold flavors include Crème Brulee, Maple Bacon, Moonlight Maple Walnut, Ginger Snapped, and Soul of the South Butter Pecan. If you're shopping for someone who likes their beverages sweet, not bitter, you need to check out the Kip Knor Cocoa hot chocolate that is made in Kalamazoo!
Mamaleelu Cold Brew
For a cup of cheer, support Mamaleelu Cold Brew and give the gift of canned cold brew or bottles of cold brew concentrate made locally. Owner Maliesha Pullano moved to Kalamazoo in 1999 to attend Western Michigan University, where she eventually found herself studying abroad in Spain spending lots of time at cafes and falling in love with strong, black, bold coffee. Fast forward to 2014 and Maliesha has won several awards, been featured nationally in Roast magazine, and continues to grow her line of products. You can find Mamaleelu coffee at several local retailers including Midtown Fresh Market, Sawall Health Foods, and PFC Natural Grocery & Deli.
SATISFYING BEVERAGES
Harris Wholesome Juice Bar 
If you're juice looking for a good treat to buy for that someone sweet, Harris Wholesome Juice Bar has fresh, organic juices, smoothies, lemonades, and teas that are not only delicious, but healthy. Isaiah Harris, founder and CEO, founded the company after finishing up his football career and trying to decide what would be next for him. Inspired by his passion for healthy living and one of his favorite rappers, Jadakiss, who has a juice bar in New York, Isaiah started his own juice bar here in Kalamazoo. Popular flavors include Strawberry Rise, a tea and lemonade mix, as well as Blacker the Berry, which is a juice that is loaded with antioxidants. Another one to try is Beets by Zay. Isaiah shared. "I know people who hate beets but love Beets by Zay," said Isaiah. "You know it's there, but you just don't taste it. It's not overwhelming."
During the holiday season, Isaiah said he continually experiments with new flavors and specials, which you can find on his social media platforms. This fall, he released a pumpkin spice drink called A Sprinkle of Fall. As the holidays near, Isaiah is looking forward for a chance to slow down and spend time with family. With the year it's been, he said, "I feel like we should all just come together, be close, be around our loved ones, and end it on a good note." We encourage you to fill up your loved ones this year with local products, not only for their health, but for the health of our community. "Shopping local is putting money right back into your community," said Isaiah. "Why go somewhere else when you could shop right at home? Especially at small businesses, because we may not have the support or the backing that a lot of other major companies have."
Physic Kombucha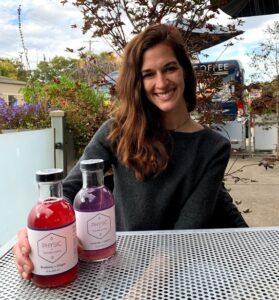 At Physic Kombucha, co-founders Meredith Ganton and Danielle Fiskars-Byers carefully craft effervescent, probiotic tea infused with cold-pressed juices, resulting in a delicious beverage brimming with probiotics and organic acids that promote a healthy GI tract, crucial for immune support, energy, mood, and much more. Meredith shared with us how her and Danielle started the company together in 2017 because of Meredith's search to find a healthier beverage option in Kalamazoo, combined with Danielle's experimentation of homebrewing kombucha. Combining these two hobbies, the final product, Physic Kombucha, has an enriched flavor without the need to add more sugar. "It's not as potent as some other brands," said Meredith.
For the holiday season, Meredith always gets excited about the seasonal flavor Pomegranate + Rose Hips. She described it as "more of a fruity and light and fun flavor." One other flavor that she strongly recommends for gift giving is Lavender Lemon. "Everyone loves the lavender lemon. It's really floral and light," she said. If you want to share the gift of adventure, Physic also sells home kombucha-making kits, which are a fun and unique gift that takes it to the next level. For your holiday gatherings, you can also take it up a notch by trying out kombucha craft cocktail recipes, which Physic shares on social media. "One of our holiday kombucha flavors is apple ginger, and we have a cocktail recipe to go along with it," said Meredith. The Apple Ginger Fizz cocktail recipe includes whiskey, egg whites, grated ginger, honey, and of course, the apple ginger kombucha. "It's so good," Meredith said. "It's like the perfect holiday cocktail drink. It's amazing."
Juicy Leaf
Juicy Leaf was launched to help our community live a healthier lifestyle and get its fruits and vegetable servings in each day. The local juicer produces small batches of cold-pressed, organic, and raw juices that come in nutrient-packed juice shots, bottled juices, and even juice packs of four or more. You can buy the fresh juices online or shop at the downtown Kalamazoo location to see the full variety of juices in person. Giving the gift of nutrition will keep those around you feeling happy and healthy. You'll have them singing, "On the thirteenth day of Christmas, my true love gave to me 13 juicy juices."
SAVORY FOODS
Buehl's Fuels Sausage Co.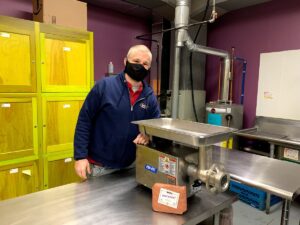 Jake Beuhl, chef and owner of Buehl's Fuels Sausage Co., has been in the food industry for over 20 years and is using his expertise to produce quality sausages made with whole muscle meat, hand-ground spices, and fresh vegetables. Starting out in December of 2019, Jake's original plan centered around a food truck, which ended with 2020's famous last words: "and then COVID happened." Jake explained, saying, "I kind of pivoted and began going to farmer's markets and found it's something I really enjoyed. People really seem to like taking it and preparing it themselves."
Jake enjoys crafting creative, seasonal varieties of sausages, rolling out new flavors on a regular basis. However, he does have six staples that are always available, including an original bratwurst, jalapeno cheddar bratwurst, onion and Kalamazoo stout sausage, Italian sausage, breakfast sausage, and sweet hot maple breakfast sausage. Jake emphasized the importance of buying local this year: "Local businesspeople are really, really put out by everything that's been going on. I can't speak for other industries, but people in food service are very hard hurt."
West Michigan Pasta and Provisions
Available in several local establishments, including Wagoner's Grocery Store in Mattawan, Rykse & Co. in Texas Township, Texas Township Farmer's Market, Kalamazoo Farmer's Market, and Victorian Bakery, West Michigan Pasta and Provisions offers traditional artisan and dried pasta made by hand right in Kalamazoo. Michael Murray, executive chef and owner, shared that pasta is one of the best gifts to give this holiday season. "We get so much fruit, and we get so many sweet things. Fruit is perishable, and sweet things we can only eat so much. Pasta is different and pasta can be set aside until you're ready to use it. You can get through that perishable stuff, and then you can go cook your pasta." Two great gifts for the holidays are the preset gift basket and a four-pack pasta basket with a tote bag.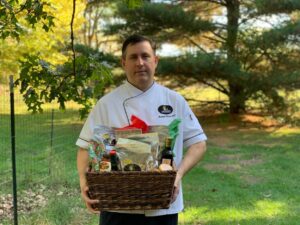 If you're unable to go out and buy the products at a local retailer, don't look pasta the opportunity—since the pandemic began, West Michigan Pasta and Provisions started doing local deliveries and mail orders. "A lot of people don't cook at home, so we wanted to make sure they have the resources to have that experience and have that little bit of joy in their day that maybe they wouldn't have otherwise," said Michael. With the addition of local deliveries, Michael added some sauces, chicken soup, chicken stocks, and basic tomato sauces to the lineup of products, which are available online and in retail locations.
Youz Guys Sausage Co.
Another local sausage favorite is Youz Guys Sausage Co., which is located in Portage. Youz Guys crafts a variety of flavorful sausages and more. Its sausages could be the perfect addition to your favorite holiday meal, or a great unique gift for that person on your list that is hard to shop for. Youz Guys Sausage Co. stands by its tagline, "great tasting, natural food that people can afford, consume, and enjoy." Check its Facebook page for specials and hours before heading into the store to buy your holiday sausages!
SWEET TREATS
Confections with Convictions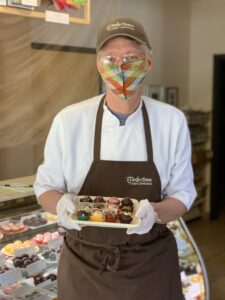 Confections with Convictions has a primary mission of being an employment opportunity for young people with felony records and other barriers to employment. Before he was a chocolatier, Founder Dale Anderson worked as a counselor with young people in the court system for several years. Through this work, he discovered that youth needed more resources to overcome the many barriers that they faced. The result is a legacy of 10 years producing fine artisanal chocolates all while supporting the vibrant future of our community. "I'm really excited about being a place where people can both get a gift for others and help young people at the same time," says Dale.
For holiday gifting, Dale suggests "boxes of truffles and caramels are lovely for house parties, family get-togethers, and gifts for staff and clients. We've got quite a range of holiday gifts for various purposes and occasions." The full lineup of hand-crafted fair trade and organic chocolates includes chocolate-dipped fruits, chocolate barks, boxes of truffles and caramels, and more.
Layla's Cool Pops
Layla Wallace founded Layla's Cool Pops in 2015 when she was just 10 years old. What started as a fourth-grade economics project is now a nationally recognized brand that employs local youth and partners with nonprofits to end homelessness in our community. "She has always had a heart for the homeless, a heart for folks who maybe don't have all of their needs being met," said Luchara Wallace, chief financial officer of Layla's Cool Pops and Layla's mother. "She had a vision, and her vision has actually been very comprehensive and consistent: to purchase homes for homeless families and provide them with the support that they need until they get on their feet."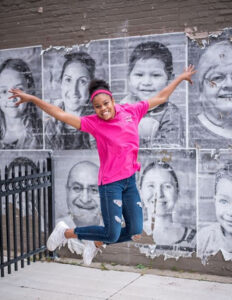 "Honestly, I don't think there's anything on her menu that you can go wrong with. Her cupcakes are absolutely phenomenal—that's what she's known for," said Luchara. "However, what really ships well are the cookie pops, which are Oreos dipped in chocolate decorated with fun sprinkles. Our pretzel rods are another popular item that people love to ship and send out too." Other excellent treats include puppy chow, brownies, Rice Krispies® treats, and even vegan cupcakes. Treat yo'elf and others with the gift that gives much more than just delicious treats.
Cherri's Chocol'art
A downtown Kalamazoo gem, Cherri's Chocol'art gives us Claus to celebrate. Cherri's handcrafts salted caramels, turtles, truffles, Chocol'art bars, and more. Owner Cherri Emery turned her love of both art and chocolate into a business with her eye for high quality and artful presentation. With so many products to choose from, you can make the selection easy by giving a gift box. Sprinkle your stockings with sweets or send loved ones a treat from afar—but whatever you do, make sure it's made in Kalamazoo!
Eileen's English Toffee
Located in Richland, Eileen's English Toffee handcrafts toffee and more from an authentic recipe from Surrey, England. Known for toffee that's "made to crumble in your mouth and not stick to your teeth," the craft has become a family tradition. In addition to its hand-crafted toffee, Eileen's English Toffee has expanded its product line to include decadent dark chocolate toffee brownies and chewy and crunchy toffee cookies. You can buy toffee by the pound, in a snack pack, or even in holiday gift tins.
SELF-CARE
Samson's Haircare
With a location in downtown Kalamazoo, Samson's Haircare crafts fine men's grooming products and hair care products right here in our hometown. Adam Muncy, president and CEO, suggests that the safest surprise gift option, if you have a guy with a beard, is the Beard Box which combines beard oil and beard balm at a discounted price. "Otherwise I always suggest our clay," said Adam. "It's a really easy starting point for any guy who's maybe not familiar with hair products." Encouraging people to support our local makers, Adam said, "Kalamazoo is a special place. I think it's one of the few communities I've seen where everybody is focused on edifying each other and building each other up. We have a lot of great gems that the rest of the world is starting to recognize that are created in Kalamazoo."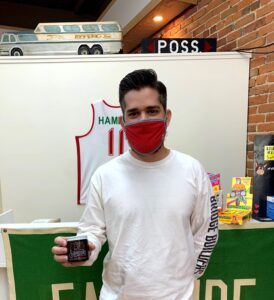 Samson's started in 2016 because Adam's business partner Jake, a then full-time barber, wasn't able to build up his clients beyond the 16 people he could see in a day. To grow the operation, they decided to create Samson's Haircare to allow for scaling. "Samson's Haircare gave us the ability to do that for people all around the world," said Adam. "There's a lot of people we haven't had the chance to impact yet, but we've been able to go to Australia, Hong Kong, the Philippines, and Singapore—really all over." The duo started the adventure with a modified rice cooker in Jake's basement. "Now we're cooking 400-can batches in our 13-gallon wax melter, advertising heavily online, and servicing retail partners across the Midwest," he continued.
Damn Handsome Grooming Co.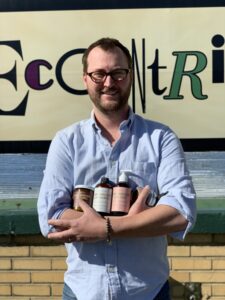 Partnering with local craft breweries to repurpose brewed ingredients into sustainable men's goods, Damn Handsome Grooming Co. carries beard oils, soaps, after shave, and even soy candles that are all handmade in Kalamazoo. Jarrett Blackmon, co-founder, started mixing up the products in his kitchen and now sells them around the country online and through wholesalers. "We will have some holiday kits available," said Jarrett. "We have a beard care kit, and we're going to have some exciting new candles too with some really cool designs." Jarrett even shared insight on their best-selling scent, Juniper IPA. "Every year we bring out Juniper IPA. We have it in soap and candles and beard oil, and it's our best seller. We only bring it out in November and December."
"The impact of a local purchase extends much, much further than just that initial business. We source most of what we can locally," explained Jarrett about why he thinks it's important to shop locally during the holidays and after. "With everything that someone purchases from us, we also purchase those raw materials from people locally. We rent space locally. We take clients out to dinners and lunches and coffee and beers locally. That purchase isn't just about the product. It's about the whole life cycle of that product that happened before. That business will be turned around and be put right back into the community."
The Perfect Pucker
The Perfect Pucker has products for both women and men, including lip balms, hand lotions, beard oils and more, all handcrafted in Kalamazoo. Owner Valencia Scott started the business after suffering for years from dry skin on her lips and finding her own solution that she wanted to share with others. On what makes her products unique, Valencia said it's the fact that she makes everything by hand. "I'm able to focus more on quality control because I'm making everything in small batches. That also brings about consistency with my product and my price point—nothing is over $35. It doesn't matter what your skin type is. You can find some product in my line that you can use," said Valencia.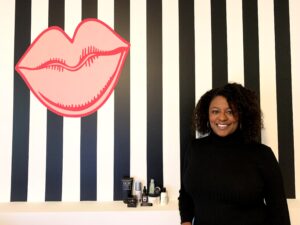 This holiday season, The Perfect Pucker is going to have holiday specials on products including skincare, lip care, and men's product kits. Follow along on social media to stay up to date with all offerings and updates about a pop-up shop in Portage. "If you're supporting small businesses, you're helping support somebody's dream," said Valencia. "In these times, the smaller businesses are the ones that are really hurting. I'm going to be an advocate this holiday season more than any other time to shop local and support those smaller businesses so we can make sure that they stay in business and are still around in 2021."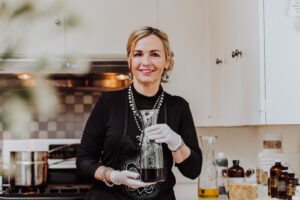 Anii Skincare
Anita Vlachos, owner and formulator of Anii Skincare, developed her first original skincare formula decades ago when her children were young and experienced sensitivity to some skincare products. Since then, she has been creating skincare products that are "inspired by nature's integrity." Making everything in her own kitchen, Anita handcrafts luxurious, yet affordable, skincare products including toner, specialty creams, artisan soaps, a full lineup of face care products, and even the Simply Soothing cream that is a must have for people undergoing radiation, with sun burn, or burned skin. "Every formula that I've created is for its intended purpose and area of the face or the body," said Anita. This is a gift that even Santa would approve!
Elina Organics
With a spa right in Kalamazoo, Elina Organics crafts holistic clinical skin care products like probiotic cleansers, lotions, serums, and even makeup. Elina has been recognized by many notable celebrities and awards, including being featured in Forbes, Today, and Refinery29, among many others. Elina Fedotova, chief formulator, celebrity esthetician, and holistic skin care educator, formulated the Elina Organics line and hand makes all products in her local lab. If you're not sure which of the many products to buy, give the gift of merry and bright skin with a gift certificate to Elina Organics for someone to buy a skincare product or even get a facial or a facial massage.