Overcoming the obstacles to virtual learning is easier when the community rallies its support for students and families. Here in Kalamazoo, several community partners are launching four Community Learning Hubs for students this fall that will be geographically based hubs for students to receive comprehensive services to support their virtual and in-person learning.
The Kalamazoo Youth Development Network (KYD Network), a local nonprofit serving as the intermediary organization for Kalamazoo County's out-of-school time (OST) sector, has been co-leading the coordination of organizations and school districts that are helping to make this concept a reality. Support for students will be truly holistic, providing them a safe place to productively learn remotely, but also offering access to good Wi-Fi, digital learning devices, support for distance learning, socially distant in-person support, enrichment activities, outdoor recreation and physical activity, healthy snacks, family support, and mental health and wellness support.
KYD Network Executive Director Meg Blinkiewicz explained the vision, saying "The goal of the support for the virtual learning is to provide a safe, productive learning environment that has trained adults there to guide youth through participating in virtual learning." In addition to this support for virtual learning during the school day, KYD Network will also continue to support the provision of services for students during after-school hours. Meg continued, "It's not childcare, and it's not out-of-school time programming either. It's new, right? No one's ever done this, so it's hard. It really is that holistic support for distance learning."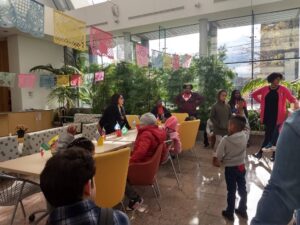 The model for community learning hubs is one that was started in San Francisco by the San Francisco Department of Children, Youth and Families. San Francisco has 40 sites set to open by September 14 and is looking to serve up to 6,000 students. This model is an innovation, and San Francisco and Kalamazoo are some of the only communities in the nation offering support for students with such a holistic model. In early August, Kalamazoo Public Schools made the announcement that students will be engaged in fully remote learning for the first trimester, until at least November 24. Acknowledging that remote learning poses many challenges for families and further produces issues of equity and access, KYD Network, the school districts, and other community leaders chose this model to address the gaps that students may have in their education this fall.
"We're kind of saying, what chip, what asset do you have? Is it people? Is it a place? Or is it a program? Or is it two or three of those? Being able to organize it and coordinate it has been a challenge. We're not all the way there yet, but the partners have been just incredible—the out-of-school time partners, community-based organizations, and the school districts." Collaboration has been key for KYD Network, working around the clock with the nine local school districts, the Kalamazoo Regional Education Service Agency (Kalamazoo RESA), and several other organizations in the community. Meg stated that there were too many partners to give credit to each, not wanting to leave anyone out. "We've had lots of community partners step up," said Meg. "Kalamazoo is collaborative to begin with, but with this structure and model, it really allows community partners to come together and say, 'Okay, this is my asset that I can share.' And the structure to organize that sharing process is very clear."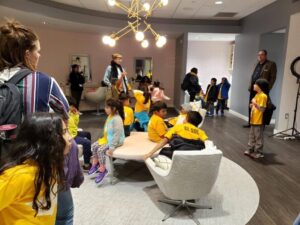 The Community Learning Hubs are set to launch in early October and will be open for students for the remainder of the trimester, or for however long there is a need for remote learning support. Efforts to bring this vision to life have not been easy—leaders are working to ensure that every one of the four hubs has enough resources to support students. "We definitely need resources. We are creating a collective fund for the OST sector to offset staffing costs, so financial donations are greatly appreciated. Also, if there are folks who would like to volunteer, we really need adults who would have time to volunteer," said Meg.
Hoping to rally the community's support, Meg continued, "No one's ever done this before, right? The idea of 'it takes a village' is so true now. We need everyone to really step up and support young people and their families during this time. Families are really trying to figure this out—everyone's so stressed out. We can all come together and share what we have; we all have assets and gifts and now's the time to give them. We don't want anyone to fall through the cracks."
If you are interested in learning how you or your organization can help support Kalamazoo's Community Learning Hubs, reach out to Meg to learn more. Only together can we ensure the vibrant future of our community through our future leaders.
Article photos provided by KYD Network. Please note that photos were taken prior to the COVID-19 pandemic and therefore don't represent proper social distancing or mask-wearing measures.