During these changing times, many employees are transitioning back to an office setting with safety measures in place, but a lot of people are still working on a flexible or hybrid schedule between office and home. For Gibson, insurance advisors and consultants serving Southwest Michigan and Northern Indiana, the team has been transitioning back into the office since late June and early July. Even while employees are heading back into the office, Gibson offered its team flexibility to work from home, especially moving into the fall when many parents will be balancing responsibilities with students learning virtually from home.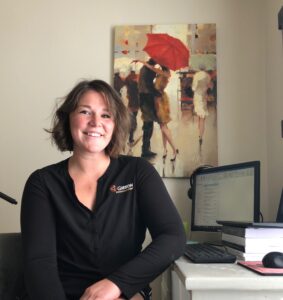 To accommodate employees' needs while working from home, Gibson has created a Work From Home Grant Program that allows employees to submit a request for up to $600 in equipment that will be purchased by the company. "What really prompted the urgency for this program was the fact that a lot of our school districts in the state were going to start the school year virtually. We've got a lot of working parents at Gibson and that was top of mind for us," said Nicole Fallowfield, principal and director of administration at Gibson. "We also wanted to be sensitive to the fact that we have people who may fall on the end of the spectrum where it makes them a little nervous or uncomfortable coming into an office setting."
Gibson's leadership team created the program to help employees adjust to the longer-than-expected period of remote working. "We really wanted to make sure we were supporting our employees being able to work safely and efficiently from home," added Nicole. "On Zoom meetings, I've seen people sitting on their couches or sitting at kitchen tables working, and from an ergonomics perspective, that's not the best setup." After launching the program last week, Gibson has already had 70 requests for equipment from employees out of its team of 150. Employees are able to choose from any equipment to help their work, including monitors, docking stations, office chairs, adjustable height desks or tables, and surge protectors. So far, the most requested item has been height-adjustable desks.
Going even further, Gibson is allowing employees to keep the newly purchased equipment forever. "The equipment is yours to keep—we don't want it back!" stated a memo to all employees. With this, Gibson also added a 24-month recoupment period for the program, stating that if an employee leaves the company within the time period, they will owe back a portion of the pro-rated cost of equipment. Gibson is an employee-owned company, so the leadership team encouraged employees to be mindful about their needs before purchasing equipment.
Feedback from employees has been overwhelmingly positive with many expressing their gratitude and confirming that it's yet another reason why they're thankful to work at a place like Gibson. "The fact we're investing in something like this for employees was really well-received, and it's the right thing to do," noted Nicole. "We want people to be safe when they're working from home. While this isn't intended to set people up to be able to work from home in perpetuity and have everything they have at the office, it's at least able to get them through these challenging times without being unsettled about going to the office."
Photo compliments of Gibson. Pictured is Laura Van Dyke, a Gibson employee who has requested an adjustable-height desk and adjustable chair.