Do you have an idea or a problem that needs to be solved? A product that needs to be created? Have you had an idea for a business that you've been itching to make a reality? Do you feel that with a little guidance, you'd be able to finally launch your concept? If this sounds like you, then First Path is the perfect fit!
Join Southwest Michigan First and program partner Plywood People for a nine-week journey to help you decide in which direction you should take your idea. This course will give insight into the "who, why and how" to build your business. Designed to help problem solvers and entrepreneurs, you will not only be introduced to a community of support, but you'll also get a chance to workshop your business idea.
This program has been intentionally created to cultivate a diverse ecosystem that reflects our community. We encourage anyone and everyone with an idea to take the leap to apply.
Are you ready to take the leap? Read about previous First Path participants below and apply to take your first step with First Path here.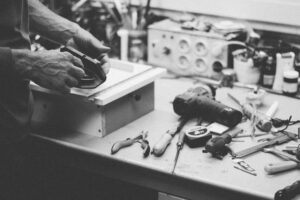 Making Spaces for Future Makers
An entrepreneur through and through with a heart for community and small business, Matthew Nilson is working on three business ideas simultaneously: RBA Capital Investments, Stone Soup Lab, and Nabit.news. "One of the lessons I've learned from my last career change is that a lot of times in business, you have to have multiple entities working together. Just having one business, one service, one product doesn't get you where you need to be. Sometimes you have to pair a nonprofit with a for-profit and different entities," said Matthew. 
The first business venture Matthew already has underway is RBA Capital Investments which focuses on purchasing buildings in rural towns and refurbishing them. The second venture is Stone Soup Lab, which Matthew plans to be a nonprofit that helps to revitalize towns by teaching people how to build a business. "People are getting older and your hardware store is going away and your supermarkets are getting smaller or going corporate," said Matthew. "You're not going to get some Facebook, Google, or Amazon to come to a local community, so you've got to build it organically." The final venture, Nabit.news is an app that Matthew described as the "Uber of News" which would allow people to share news and earn the ad revenue for their work. 
While Matthew isn't short on ideas or passion, he needed some guidance with his ideas— guidance that he has found through the Southwest Michigan First First Path program. One take-away from this program for him was the idea of building a community of support through branding. "When telling your story, your narrative, it's really important for people to feel appealed to your story, so you've got to be vulnerable," said Matthew. "If you don't have a good captivating, entertaining story to tell about your product or service, it's going to be a challenge."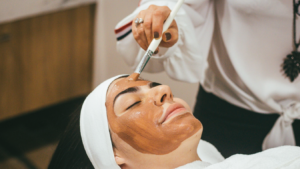 Naturally Healing Others To Feel and Smell Good 
After falling in love with natural hair and skin product lines that incorporated aromatherapy but not totally loving the price tag, Terice Baiyewu decided to take matters into her own hands. "I came up with the idea to make skincare for people that have sensitive skin and would prefer a natural product, but who don't necessarily make a hundred thousand dollars a year," said Terice.
Already equipped with the passion and will to do the hard work to gather and implement research, Terice lacked the confidence to start a company. To get the ball rolling, she applied for a spot in Southwest Michigan First's First Path program. Her involvement in this program has instilled the confidence to continue her journey to start a business.
"I've become more inspired. Before, I felt that I was kind of on pause because I didn't have all of the resources I needed to start, but now I feel like I've become less stagnant," said Terice. "I have been able to move forward in the concept, and the finish line is more in view."
With an idea of what her final concept may look like, Terice now has the drive to continue developing her business. She has started creating her company's brand identity on Instagram and YouTube, enrolled in an online natural skincare course, and decided on a working business name: Personal Transformation. 

Planting a Business With Blooming Opportunities 
At first, Harmony Tahmalwash dug into gardening as a hobby but desired to expand and start her business Garden with Harmony to bring affordable, sustainable gardening education to the local community. She got into gardening in 2014 after her husband and father passed away, and she had left her military position after ten years in the role. "I bought a cucumber plant at a grocery store, and it was my baby. It became that thing where every day I was focusing on it—it failed miserably. But, then I started doing some actual research and it gave me something to look forward to outside of myself."
To take her project from passion to profession, Harmony participated in Southwest Michigan First's First Path program. Although new to the area, she took a leap of faith in hopes of overcoming her analysis paralysis and applied for the program after she saw an Instagram post. One of the most influential takeaways is her shift in mentality that it's alright to ask for help. "I grew up in a household where you do it yourself, you don't ask for help. And then I was in the military for ten years where you definitely just do it yourself," said Harmony.
While Harmony is beginning her new gardening business just as winter sets into our region, she is co-hosting a podcast, "The Garden Show," to begin sharing information and promoting her program. "Right now, with the winter, people are not gardening. So, this podcast is to fill that space and to help bridge that education gap."
Recently, the pandemic has increased food insecurity throughout the U.S. with almost 30 percent of households with children categorized as food insecure. "A common theme that I see is people feel they just don't know where to start. There are a lot of garden coaches and programs out there, but they're not affordable for the people who are in food deserts, who really would benefit from being able to grow their own produce in their backyard," said Harmony.
Now that Harmony has completed the First Path program, she is eager to put her new-found knowledge into action.