People Helping People
FIRST & 42 has scouted around Southwest Michigan to find workplaces that know how to make work both fulfilling and fun for employees. Honor Credit Union (HCU), a member-owned financial institution, received the distinction of being a Wonderful Workplace this year. The Honor team lives and works in the communities it serves and supports the causes that matter to its members. At the end of the day, every move is intentional to serve its members as the team strives to help members achieve financial success. Priding itself in its "unconventional" approach to financial services, Honor puts a big smiley face on everything they do—a sign of its commitment to people. Everything about its workplace culture comes back to Honor's three E's: engagement, empowerment, and entertainment. CEO Scott McFarland said, "At Honor Credit Union, we are committed to the principle of 'People Helping People.' This idea is just as true for our team members internally as it is for our member-owners externally. This year has brought unique challenges, but we have made it a point to take care of each other…so we could take care of our members." Read on to learn more about what makes HCU a wonderful place to work.
What was HCU's biggest achievement during 2020?
At HCU, 2020 started with a bang! In February, we reached over $1 billion in assets. However, we had little time to celebrate this momentous occasion… because as the world knows, the next month changed everything.
As the COVID-19 pandemic began to create financial hardship for many members and business members, we wanted to do our part to take care of our community and our members. Through the implementation of the Honor Financial Relief Package, members and non-members were able to take advantage of a multitude of services. One of the ways we served our members was through eligibility to skip a payment on consumer loans without a fee. In addition, mortgage relief options were offered. To really take care of our members who were struggling, we temporarily waived fees on things like overdrafts as well as early withdrawals on CDs. We were also among the first credit unions to temporarily close lobbies, offer appointments, and truly be there for our communities in any way that we could. By operating as a team, HCU was able to roll out the Honor Financial Relief Package in just two days to provide support to our member center communities during these uncertain and uneasy times. The Honor Financial Relief Package included 15 adjusted products and services to help members through the financial stress they were experiencing. By reducing or eliminating fees, skipping payments on loans and mortgages, taking out a HereToHelp personal loan, extending a zero percent credit card balance transfer offer, and more, we didn't just tell our members we were there for them, we proved it. While financial hardship is hard to navigate, Honor was there (and continues to be here) to guide both members and non-members through the best solutions that fit their unique needs.
In addition to the Honor Financial Relief Package, we also helped over 448 businesses with securing a Paycheck Protection Program (PPP) loan. That is 448 businesses that we allowed to keep their doors open, to keep their lights on, and to maintain staffing.
We also pride ourselves on our willingness to share our communication updates and progress during the pandemic. HCU became an early leader on how to handle COVID-19 communication and financial relief. As part of the credit union movement, we were happy to share daily updates as well as our initiatives with other credit unions across the state.
In the end, our greatest achievement of 2020 isn't reaching $1 billion in assets or opening a brand-new member center in Kalamazoo (which we did), but rather, our greatest achievement of 2020 is helping countless members find peace and comfort in such challenging times. Whether we are working the teller line, assisting a member with an auto refinance, or creating marketing materials for public consumption, our team is constantly looking for ways to help our members. And that…is our greatest success.
What is unique about Honor's workplace culture?
What does it look like when a credit union flips the script on providing a traditional service? What does it mean to be "unconventional" in the world of finance? At HCU, we work hard every day to answer those questions. For us, it starts by being obsessed with the member experience. We strive to meet each member with a hospitality mindset and a mission to make the small part of their day that they spend with us as seamless and easy as possible. It's no accident that we stick a giant smiley face on everything that is Honor—we are genuinely happy to help.
To be unconventional requires both effort and intent, and we are just as intentional about our internal culture as we are about our brand in the marketplace. Our workplace culture is all about the three Es: engagement, empowerment, and entertainment.
2020 has provided a whole new set of challenges, and one of those has been how to engage our team members when we can't be together. We do this by sharing photos and stories on our digital social corkboard or meeting via Zoom for the monthly "All Team Huddle." We engage our team members by celebrating their successes, and we feature various awards and recognition on our internal website. Another way we've interacted with our teams is by sending gifts to their homes. In a time where isolation can take its toll on all of us, we felt it was important to let each individual know that they are appreciated—even from afar. Although many of us have been working "alone," we have very much been working "together."
Our team members are empowered to make decisions that impact our members and our organization, and that gives us a high level of ownership that makes us feel like we are all working together for a common cause. We have an internal Continuous Improvement (CI) Team that reviews suggestions from our team members on how to make our processes and services better, and the CI Team puts these ideas into motion. We are encouraged to practice "Reason Over Rules" and to make decisions based on the situation, knowing that our members don't fit inside a box and their stories matters to us. Our team members are encouraged to write first-person blogs for our website, are the subject of "Causes Off the Clock" videos (where we highlight our passions outside of the credit union), and are the frequent stars of our social media content. In addition to the pandemic, 2020 has brought social injustice and civil unrest to the forefront of our news and communities. To acknowledge these important topics and to make sure our team has felt heard, we created a "Listen, Learn, and Love" series. These roundtable talks allowed our team to have a voice and to help our leadership find ways to show all team members that they have value.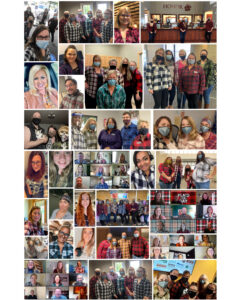 Lastly, we realize the power of entertainment when it comes to keeping our team members energized. While our typical day-to-day in a member center or at the operations center is much more interactive and exciting, this year has been a little different. Instead of our regular potluck lunches and morning talks by the coffee station, we've had to think outside of the box and brainstorm ways to stay connected during this challenging time. A few of these ways include interacting by way of virtual Coffee Chats in the mornings and by hosting Friday afternoon virtual Happy Hours. We've also carried out the tradition of participating in a variety of dress-up events. For example, our teams across the state joined together to sport their best plaid in an October "Plaidurday" celebration. This day, which originated in the state of Michigan, highlights the idea that we are all connected "by a common thread."
Why do your employees love going to work each day?
There are a few key components that make a job worth going to every morning—feeling like what you do matters and makes a difference in the lives of others, being surrounded by people with a similar positive mindset, receiving recognition for hard work and dedication, and being part of a culture that focuses on people before profits. At Honor, all of those elements are alive and present on a daily basis. We get to see how our promise to our members—"Providing Solutions for Financial Success"—lives out in real life. We hear the stories of first-time home buyers and small business owners that came to us for help and were able to accomplish their financial goals. We love helping people, and that mindset is engrained into all levels of our organization. And when we have a win, we celebrate as a team and use those proven strategies to keep the ball rolling. Our culture allows us to truly be member-owners, and that ownership creates a sense of pride in our team members to not only be Honor employees…but to be Honor Superfans.
How do leaders at Honor build engagement within the team?
We know that in order to grow as an organization, we must grow our internal bench of leaders. For this reason, we started the IGNITE Leadership Accelerator program.
IGNITE Leadership Accelerator is committed to "your growth, not your comfort," with an intensive interactive leadership development program. The program engages, empowers, and develops participants as leaders who will improve their effectiveness of leading, growing, and sustaining the Honor mission and vision. Participants are required to commit to nine to twelve months of program completion.
Leaders are provided the tools and the practice to build engagement within their own teams and participate in weekly coaching sessions with their direct reports. We believe that successful coaching begins with building people and helping them develop to their highest potential. Throughout the course, topics such as emotional intelligence, crucial conversations, networking, and effective onboarding are discussed in a cohort setting to allow real world application.
How did Honor handle workplace status during COVID-19 and keep employees engaged?
Like most of the world, COVID-19 seemed to creep up on us slowly… and then all at once. However, our teams worked tirelessly and seamlessly to put action into motion. Within two days, our IT team moved immediately to deploy roughly 130 team members from our operations center to work remote (mortgage, business services, marketing, human resources, etc.).
We found that one of the biggest hurdles to navigating 2020 was the need for constant communication. Therefore, starting in March, we implemented a daily communication strategy to keep our team members in the know. This communication was key to keeping our team members apprised of the ever-changing information that needed to be shared. We continued this daily communication for four months before moving to a weekly strategy in July. Not only did we communicate continuously internally, but also with our members. Whether it was through email, social media, or even good old signs on the doors of our member centers, we made sure we didn't skip a beat when updating our member-owners.
While we deployed our remote team members, we also recognized the need to provide them a comfortable workspace. That's why we created the Workplace Reimbursement Program. We understood that working remote wasn't necessarily convenient for many of our team members. Therefore, we allowed our teams to purchase miscellaneous office supplies (such as desk chairs, floor mats, desk lamps, etc.) and submit them for reimbursement. Our teams found comfort knowing that our leaders recognized the need to support and equip them while working from home.