The votes have been counted and the winner of the sixth annual Makers' Mart competition has been named! On Friday, December 4, 2020, Samson's Haircare earned the coveted Makers' Mart title at Catalyst University, a three-day leadership event hosted by Southwest Michigan First headquartered in Kalamazoo, Michigan.
The regional economic development catalyst serving the seven counties of Southwest Michigan started the competition six years ago to support the local maker and entrepreneurial community in the region it serves. Each year, Makers' Mart competition finalists are selected from applicants who own and operate small businesses in the region. Finalists have the opportunity to sell their products during Catalyst University, Michigan's largest annual leadership conference. Now in its tenth year, Catalyst University is usually an in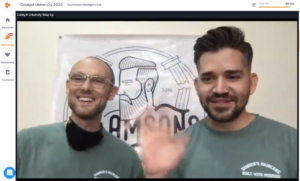 -person conference but was held virtually this year during half-day sessions on December 2, 3, and 4 due to the global pandemic. In addition to Samson's Haircare, the other finalists were Factory Coffee and Kamili Activewear.
Samson's received the largest combination of votes from the 1,200 event participants and online voting promoted by "FIRST & 42: The Kalamazoo Region's Digital Daily" and Southwest Michigan First's social media channels.
With a heart for helping to shape its clients' style and souls, Samson's Haircare crafts fine men's grooming and hair care products in Kalamazoo, Michigan and now features its products at its new barbershop downtown. Samson's started in 2016 because President and CEO Adam Muncy's business partner Jake Hamlet, a then full-time barber, wasn't able to build up his clients beyond the 16 people he could see in a day. To grow the operation, Adam and Jake created Samson's Haircare to allow for scaling. The duo started the adventure with a modified rice cooker in Jake's basement and is now cooking 400-can batches in a 13-gallon wax melter, advertising heavily online, and servicing retail partners across the Midwest.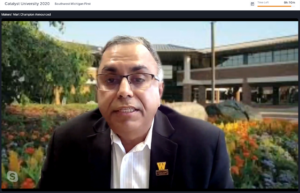 As the winner of the 2020 Makers' Mart competition, Samson's Haircare was recognized with a $2,500 cash prize awarded by competition sponsor Western Michigan University's Haworth College of Business. The college's dean, Dr. Satish Deshpande, presented the award live to the winner. "Michigan is a big draw for small businesses and the Haworth College of Business and Southwest Michigan First are natural allies in creating jobs here in Southwest Michigan. This is a great platform for us to promote entrepreneurship," said Satish. Additionally, Samson's Haircare will receive MiSpringboard legal services courtesy of Varnum LLP and marketing support from Newhall Klein.
The company's founders, Adam and Jake plan to use the earnings to expand their network saying, "The first thing we would love to do is attend the Barber Expo. There's plenty of hair shows but very few dedicated directly to barbering. This expo would take us from being a Midwest niche company to hitting all 50 states plus Puerto Rico and Guam."
"Southwest Michigan First realizes the importance of businesses of all sizes to the regional economy. The vitality of small businesses is oftentimes one of the best indicators of how an economy is performing. With the challenges posed to communities around the global during COVID-19, supporting local small businesses has never been more important," said Ron Kitchens, chief executive officer and senior partner of Southwest Michigan First. "Southwest Michigan First is proud to recognize Samson's Haircare as winner of the 2020 Makers' Mart competition. And with the holiday season upon us, please remember to support Samson's, our other finalists, and local makers all around Southwest Michigan."
You can find more local makers from around Southwest Michigan in this list compiled by FIRST & 42.