Companies throughout Southwest Michigan including Fabri-Kal, Schupan & Sons, Tekna, and more are banding together to produce medical face shields for local healthcare workers treating patients impacted by the coronavirus.
Early last week, Bronson Healthcare requested support from Southwest Michigan First to acquire additional Personal Protection Equipment (PPE).
With input from health care professionals, the three organizations were able to collaborate and adapt a concept design provided by Global Center for Medical Innovation (GCMI) consortium to the current design in less than one week.  The first batch of face shields is planned to arrive later this week at local healthcare facilities like Ascension Borgess and Bronson Healthcare.
"Our role was getting the right companies in touch with each other that could supply the various components, as well as serving as a resource for those companies," said Joe Agostinelli, economic developer and partner at Southwest Michigan First. "The hard work was done by those companies to design this on very short order, get tooling ordered, and ramping up production."
Each organization is leveraging its specialty in the project with the shared goal to provide adequate PPE for healthcare workers in our region. Once our community is properly supplied, Jason Trahan product manager at Fabri-Kal, said the organizations will analyze the capacity to support the creation of additional resources.
"There's a lot of unsung heroes," said Jason. "It's just been a great community effort all the way from the folks within our organization but also suppliers."
Focusing on the community, Mike Roeder, president and chief operating officer at Fabri-Kal said the decision to support this effort was an easy one.
"We started this whole thing with the idea that we need to protect our employees, protect our community, and then protect our business," Mike said. "Because if you don't have the first two, the third one doesn't much matter."
While there was a slight shift in workflow to create the shields at Fabri-Kal, Mike said the transition did not shift the business as a whole. "Because we're doing it in the lab area, for us it was additive. We didn't have to de-select our business to do this."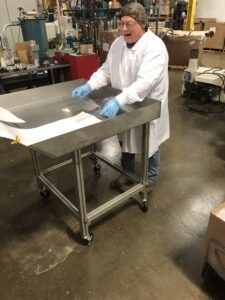 Once the plastic shield is formed and cut at Fabri-Kal, the process is handed-off to Schupan & Sons to prepare the shields for assembly.
President of Schupan & Sons, John Barry said that all machinery required to complete Schupan's role in the creation of the masks were available on site. However, the biggest asset for all organizations involved in this project has been the ability to leverage current relationships between businesses.
"Since all of our companies are located so close together, it's been seamless in terms of being able to get information to pass between each other," John said. "The collaboration between all three of us [has been key]. I don't think there's any question that not just one of us could've done the whole project on our own."
Mike Roeder affirmed the value relationships have played in this project. "The fact that the trust was there, and these people were used to working together in the community, it just became a matter of how to get it done."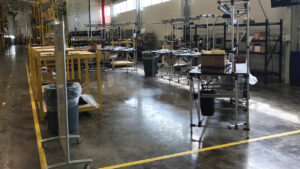 Working injunction with Fabri-Kal and Schupan & Sons, Tekna is the final stop in the face shield creation journey. The team at Tekna funnels all of the components of the project—foam, elastic and plastic shield—to assembly and then delivers to area hospitals.
"Protecting these people on the front lines is unbelievably important," said Mike Rozewicz, vice president at Tekna. "Being a part of a medical device company, like Tekna, we have the ability to do these types of things rapidly. We are blessed to have an amazing network of suppliers. In this case we're all banding together to do something great."
As a Michigan-based company, with both talent and resources, Mike Rosewicz asked his team and partners to band together and get to work. "We have a call to action. I believe taking action in this moment is what I was meant to do, and what my team was meant to do," said Rosewicz. "We have a lot more people in our corner than we know, and I hope and pray we can all help and deliver meaningful solutions from innovation to realization. This is what we do."
Outside of the face shields, each organization is working to utilize or adapt their resources to help stop the disease and protect people while fighting the disease. With hopes that relief is provided soon, all plan to continue supporting this project and others similar as long as necessary.