Updated April 29, 2021
Beyond the health implications of someone contracting COVID-19, the pandemic has exposed deep vulnerabilities in our nation's public health infrastructure. Lives have been lost, inequities intensified, and years of progress eroded across our economy. With one of the only consistencies being ever-changing messaging, people are actively seeking out resources to trust for guidance. For employers, that means you. According to the 2021 Edelman Trust Barometer, 72 percent of Americans trust their employer as the most credible source of information on a range of issues. American are turning to their employers and favorite brands to help them make sense of the pandemic and what comes next.
If you are an employer, you can embrace your role to help improve the safety of your employees by:
Continuing to require masking and social distancing to protect workers, customers, and others on premises.
Reducing barriers to vaccinations so employees can get vaccinated when it's their turn.
Communicating with customers and educating the public about the benefits of masking and vaccinations.
Recent data confirms that vaccination is critical to bringing this pandemic to an end. Vaccination also enables individuals greater freedom to engage in a pre-pandemic activities. According to the Centers for Disease Control and Prevention (CDC), fully vaccinated individuals, defined as those in which more than two weeks has passed since their final COVID-19 vaccine dose, have greater freedom and assurance to do the following:
Refrain from quarantine and testing following a known exposure if asymptomatic (unless testing is part of a mandated screening program).
Visit with other fully vaccinated people indoors without wearing masks or social distancing.
Visit with unvaccinated people from a single household who are at low risk for severe COVID-19 disease indoors without wearing masks or social distancing.
Resume travel and refrain from testing before or after travel or self-quarantine after travel (unless required by the destination).
Vaccine Resources for Employers
There are a variety of tools available to help employers educate their employees on the benefits of becoming vaccinated.
How to Schedule Onsite Vaccinations
Holding an onsite vaccination clinic is one of the easiest ways you can help your employees get vaccinated. Onsite clinics offer the benefit of reducing employee stress in finding a vaccination time and location that works for them, as well as minimizing absence from work and any added burden on family time. To aid in this effort, Meijer, Walgreens, and Rite Aid are offering the opportunity for employers to request onsite vaccinations.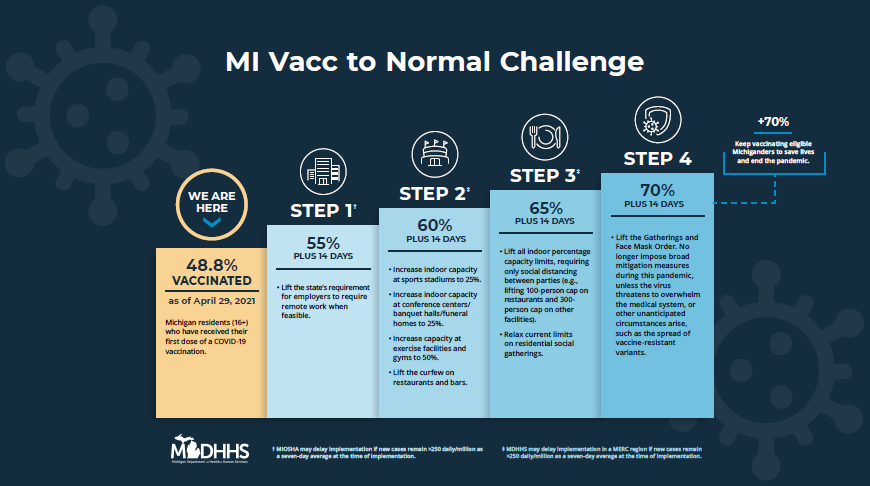 Who's Ready to Get "MI Vacc to Normal?"
On April 29, 2021, Governor Gretchen Whitmer set Michigan on a pathway to return to normal by unveiling the "MI Vacc to Normal" plan as the state continues to push toward its goal of vaccinating 70 percent of Michiganders ages 16 years or older. To facilitate this goal, the Michigan Department of Health and Human Services (MDHHS) will base future epidemic order actions on the four vaccination-based milestones below that, once achieved, will enable Michigan to take a step toward normalcy.
55 percent of Michiganders (4,453,304 residents), plus two weeks: Allows in-person work for all sectors of business.
60 percent of Michiganders (4,858,150 residents), plus two weeks: Increases indoor capacity at sports stadiums to 25 percent; increases indoor capacity at conference centers/banquet halls/funeral homes to 25 percent; increases capacity at exercise facilities and gyms to 50 percent; and lifts the curfew on restaurants and bars.
65 percent of Michiganders (5,262,996 residents), plus two weeks: Lifts all indoor percent capacity limits, requiring only social distancing between parties; and further relaxes limits on residential social gatherings.
70 percent of Michiganders (5,667,842 residents), plus two weeks: Lifts the Gatherings and Face Masks Order such that MDHHS will no longer employ broad mitigation measures unless unanticipated circumstances arise, such as the spread of vaccine-resistant variants.
As of April 29, 48.8% of Michigan residents aged 16 or over have received their first dose of the vaccine. Let's get Michigan "Vacc to Normal."