Crafting High Quality Products With Fun Along the Way
FIRST & 42 has scouted around Southwest Michigan to find workplaces that know how to make work both fulfilling and fun for employees. We are letting out the cheers for our Wonderful Workplace winners with stories about their outstanding organizational cultures and human resources practices. Today we are celebrating Landscape Forms, the industry leader in integrated collections of high-design site furniture, structures, accessories, and advanced LED lighting.
Since its founding in 1969, Landscape Forms (LF) has earned a reputation for excellent design, high quality products and exceptional service. The company is headquartered in Kalamazoo, Michigan, with manufacturing facilities in Kalamazoo and Phoenix, Arizona, and sales representatives throughout North America, South America, the United Kingdom, Australia, the United Arab Emirates and Asia. Landscape Forms collaborates with renowned industrial designers and consultancies, landscape architects, and architects to design and develop integrated collections of products that address emerging needs and help create a sense of place. Additionally, the company has formed global marketing partnerships with select companies that share its commitment to design. Landscape Forms has an installed base of products around the world. Clients include municipalities, transit centers, corporate, college and health care campuses, and familiar brand leaders such as Harvard University, LinkedIn, New York Central Park Conservancy, Bryant Park, Google, Coca Cola, Oculus, U.S. Tennis Association (USTA), Nike, National Museum of African American History (Washington, D.C.), Barclays Center, Adidas, Children's Hospital of Philadelphia, Microsoft, and Uber.
Landscape Forms believes that its people are what makes it successful. One of the pillars of its employer brand is "our people embrace opportunities to constantly learn, grow, and improve," making it a wonderful place to work and grow in a career.
CEO Margie Simmons said, "After a 30 year career growing and leading design firms from start-ups to large international firms, I joined the Board of Landscape Forms in 2014. Since that time, the more I learn about the company and engage with the team, the more I realize how truly unique and special it is as a design-led, people-centered organization. It's a privilege and an amazing opportunity to build on the foundation laid by our founder John Chipman Sr. and the strategic initiatives of my predecessors, Bill Main, now chairman and Richard Heriford, board member. We are moving boldly forward!" Continue on to hear from Landscape Forms about what makes it a wonderful place to work:
What was the biggest achievement during 2020 for Landscape Forms?
The COVID-19 pandemic was an unpredictable threat to our people and our business. When the Michigan Governor ordered businesses to shut down on March 23, 2020, we had very limited time to communicate with every team member, cease operations, prevent any unnecessary loss of material, and make decisions about pay or layoffs. This was the first time we shut down our operations for an indefinite period of time. We completed this safely and successfully in four hours.
As we resumed manufacturing in late April, we anticipated our catch up would take over 10 weeks. Our leadership team worked together to marshal every resource and team available to work in manufacturing. This meant we had executives, engineering, finance and team members from many other areas pitching in to help in manufacturing so we could continue to meet our customer expectations. Because of this teamwork, what we thought would be 10 weeks, turned into five weeks. Q2 had one of our worst months and our best months as a business. In the end, we set a record for company performance in Q2, and we expect to end the year on a positive note.
Shortly after our five-week catch up, we decided to understand how our team members were feeling after so much disruption. We launched a flash survey for all 450 team members which resulted in an engagement score higher than our engagement score from the fall of 2019, despite the challenges associated with the pandemic. We attribute this increase in overall employee satisfaction to strong leadership making thoughtful decisions for the business and our people, and the camaraderie of all coming together to ensure success for the business.
What is unique about the workplace culture at Landscape Forms?
Prior to the pandemic, we were actively seeking the distinctive identity of our employer brand. Believing there is something special about our company and its culture, we wanted to name those key differentiating factors. We spent time with about 20 percent of our most engaged team members and leaders to discover this brand. We distilled our brand to four statements: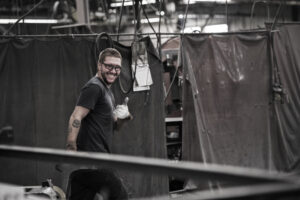 Our people embrace opportunities to constantly learn, grow, and improve.
We have a true team culture where everyone has the opportunity to succeed and plays a key role in contributing to our success.
We craft the outdoor structures, furniture, and lighting that make us the best in our industry and appear in some of the coolest places in the world. We create a sense of place for diverse communities around the globe.
Our people make the company successful, and in turn we share the company's success.
Why do you love going to work each day?
Natalie Jackson, director of talent and organization development, said, "The first time I heard about Landscape Forms was 15 years ago. From the minute I stepped into the building, I knew there was something special about this place. Early in my career, I had the unique opportunity to be a consultant in Human Resources. My previous job allowed me to travel the world and work with hundreds of different schools, hospitals, non-profits, and businesses. In this work, I experienced a wide array of cultures, business philosophies, and leadership. No client I worked with compared to Landscape Forms. Every team member I met at LF during my consulting loved working here. I had never worked with an organization where the people loved their jobs and the company as much as the team at LF. As I grew to know more, I learned about the industry leadership, innovation, design, and the care for people. Today, those are four of the many attributes that make me love coming to work each day. When I started, we had 300 team members all in one location. Now, we are four locations with 450 team members. We are growing and moving boldly forward. It's a very exciting time to be at Landscape Forms!"
How do leaders at Landscape Forms build engagement within their teams?
We want to seize every opportunity to build engagement. The first thing that comes to mind is planning. We believe people want to do meaningful work that makes a difference. We believe our best chance of success is to get everyone involved in understanding and committing to the next year's plan. Planning starts with the organization's must-dos and ends with an individualized "Ontrac." Ontracs define success for every individual. Planning is meant to be both top-down and bottom-up to make sure we are all committed and excited about the next year.
We also measure engagement on an annual basis, which is common for many companies. What sets Landscape Forms apart is our follow-up process which is called "Shaping Culture Action Planning." We share the results for each team and after two meetings, each team makes a plan to ensure that people are shaping their work environment.
The last thing we'll mention is "Fun Along The Way." Originally, this was simply a phrase that described how we like to do things. Over the years, it has grown into a real program with budget dollars devoted to it. Every team identifies a way to recharge and invest in relationships.
How did Landscape Forms care for employees during COVID-19?
There are numerous examples, above and beyond care, related to the COVID-19 pandemic. Our CEO and our Executive Leadership Team (ELT) communicated to all team members on a weekly or bi-weekly basis since before the governor's shutdown. In addition, our teams maintained weekly meetings to discuss and solicit feedback on organizational updates.
The ELT was careful and deliberate when they decided to reopen as an essential supplier. This decision was made considering how to minimize health risks, comply with all laws, and protect the long-term success of our business and its people. Our ELT decided to keep our office team members working from home for the foreseeable future. And finally, the ELT dedicated two executives, our vice president of culture and our vice president of operations to lead our initiatives related to the crisis.
Those two ELT members lead a nine-person cross-functional Pandemic Response Team (PRT) comprised of senior leaders. The first job of the PRT in April was to develop our Landscape Forms COVID-19 Safe Work Playbook. This document was written and implemented in two weeks. We spent thousands of dollars on equipment and materials to enable a safe return to work. In the last four months, our PRT has met with each team (about 40 teams) to communicate important information and answer questions twice—once in late March and again in mid-June. While the pandemic is unusual and unplanned, Landscape Forms has continued to demonstrate care for people.
We believe we demonstrated this commitment to people and culture when we sent team members home for an anticipated three-week shutdown with full pay and no layoffs. In the end, our team members could not work at our facilities for five full weeks. They received pay the entire time and none were laid off. When we returned to work in late April, many commented, "I can't believe the company paid us when we couldn't work. I don't know anyone else who kept their job and received pay." It was an opportunity where we lived out our values when it was uncomfortable, and the implications were uncertain. None of our team members had to join the long line of those seeking unemployment from state and federal programs. Our decision was based on our values and our belief that retaining our craftsmen and craftswomen would enable us to catch up and make 2020 as successful as possible.